Nov 21, 2008
104,254
8,534
113
It seem climate change is very real...as a mental health disorder but lacking as a scientific theory.
The latest vandalism is just fucking bizarre.
The wackos are going around deflating tires on vehicles they deem evil.
WTF?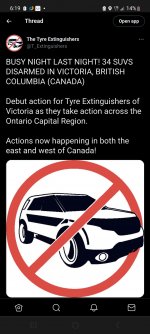 When they get climate bashed with an eco-friendly baseball bat will anyone give a fuck?