Sep 6, 2008
44,800
7,284
113
As gas prices soar, Americans can blame Joe Biden​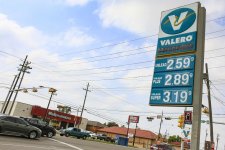 This also hurts Canada too.. so don't be smug.. we get most of our food from Southern California, Florida and Mexico.. those trucks don't drive on air.. diesel prices are almost up over $1.25 USD per gallon..
Canadians will start feeling that as the grocery store..
Expect to see price hikes on poultry, vegetables and baked goods.
www.huffingtonpost.ca
Also, our fuel prices will be on the rise because of that feckless kiddy groper they have in the White House.. so to all you Biden supports.. hope you're happy and FUCK YOU!!!