Oct 26, 2009
33,196
2,533
113
Large Huntsman spider resting on Eucalypt tree limb
Large Huntsman spider resting on Eucalypt tree limb Photo by File Photo /Getty Images
AUSSIE HEALTH MINISTER FEARS COVID…AND SPIDERS
Advertisement
Story continues below
Article content
The health minister from Queensland, Australia is bothered by COVID-19 and spiders.
During a recent press conference regarding vaccination policies, Yvette D'Ath was interrupted by a visiting arachnid, UPI reported .
"Okay, can somebody please get that spider off?" the health minister said, while shaken by the huntsman spider that graced her presence.
"This shows how controlled I can be. I don't like huntsmans, but I'm going to keep going. If he comes anywhere near my face, let me know."
The spider was roaming around D'Ath's feet and eventually scurried away.
The health minister joked about what a moment that was, stating "we've got COVID and we've got spiders."
The health official had everything to fear though as the bite from a huntsman spider can pack a punch. However, it's not lethal or harmful to humans.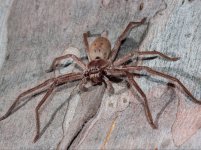 A health official in Queensland, Australia, had her COVID-19 news conference interrupted by a large huntsman spider.

upi.com