"Voice of the West" Party
Apr 9, 2008
21,708
6,824
113
That would seem to be a reasonable take away. However - while that might very well be true it is still also true that someone should be able to express their personal political opinion there without fear of being attacked by a gov't body just for having that opinion.
Jordan Peterson posted a document online that detailed a number of the complaints made against his conduct. Read the full document

apple.news
(I haven't had a chance to review the videos above as I'm listening to my Girlfriend play music on her phone on a Sunday morning & just don't want these to compete with that)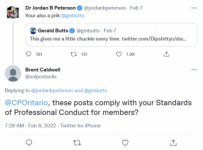 Another complaint, this one made over the telephone, and summarized in notes from Feb. 9, noted that Peterson had spoken of Trudeau and Butts in "unprofessional, embarrassing, threatening, abusive and harassing" language.
The caller is "embarrassed to be in the same college," and "concerned about clients under his treatment and also in the public domain that he is feeding misinformation in general," the summarized notes indicate.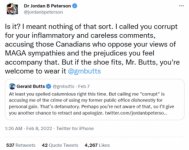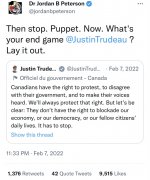 Think about it Ron, you're someone needing a psych doctor. Someone not as popular as Peterson throws out tweets that are, say, racist, or anti-GLBT, or misogynistic; you honestly think that the patients will have faith in that doctor, or the CPO in general, seeing stuff like this and not seeing it dealt with? Considering psychology is all about the mental state of people, psychologists should HAVE to be held to a higher standard about what they say/do publicly when it concerns patients.
If I needed the services of a psych doctor, I'm assuming (yeah, I know) that I'd have a choice in who that was. If I didn't like a psych doctor's political opinions, I'd be free to chose another without cancelling the first doctors career, wouldn't I?
….so he really doesn't need his license that the Ontario COP is threatening…..but it's sure a warning for others that still need their licenses and are still under the potential thumb of the Ontario COP or other censoring parties that wish to decide what is acceptable thoughts and opinions compared to their own.
As it should, or rather, the thoughts and opinions as laid out by their regulations.
A governing body regulating opinions and thoughts. That's….got a bad feel.