Oct 26, 2009
34,831
2,815
113
Doctor charged in ketchup vandalism of London, Ont. MP's office during pro-Palestinian protest
Dr. Tarek Loubani, 42, is charged with mischief for the alleged vandalism at Peter Fragistakos's office on Oct. 22
Author of the article
ale Carruthers, Beatriz Baleeiro
Published Nov 16, 2023 • Last updated 1 day ago • 5 minute read
Dr. Tarek Loubani (middle) was protesting with about 40 other supporters of Palestine at the constituency office of MP Peter Fragiskatos in London on Wednesday November 15, 2023. (Derek Ruttan/The London Free Press)
Dr. Tarek Loubani (middle) was protesting with about 40 other supporters of Palestine at the constituency office of MP Peter Fragiskatos in London on Wednesday November 15, 2023. (Derek Ruttan/The London Free Press)
Hours before he was arrested and charged with vandalizing a Liberal MP's office, a London doctor and humanitarian activist accused police of trying to silence the pro-Palestinian protest movement.
Tarek Loubani, 42, is charged with mischief for the alleged vandalism at Peter Fragiskatos's office on Oct. 22, when ketchup was sprayed on the front door and windows of the building at 231 Hyman St.
Investigators determined a group not affiliated with the demonstration stopped at the office, where one suspect removed a bottle of ketchup from his backpack and squirted it on the building before handing bottles of the condiment to three others to do the same, London police said.
Police identified all four suspects, three of whom entered a pre-charge diversion program, a process where police don't lay a criminal charge against an individual arrested for a minor offence on the condition they take part in a rehabilitative program.
Loubani was arrested Wednesday night and released Thursday after appearing in court.
Peter Fragiskatos office vandalized
The downtown London office of Liberal MP Peter Fragiskatos was vandalized with ketchup on Sunday, Oct. 22, 2023, by four people not affiliated with a pro-Palestinian rally, London police said. (Submitted photo)
"The London Police Service recognizes every person's right to freedom of opinion, expression and peaceful assembly and are committed to protecting these rights," police said in a statement Thursday.
"We will continue to take all measures necessary to ensure that citizens within our community feel safe and secure. Acts in violation of the law in the name of any cause will not be tolerated. All such acts will be investigated, and charges will be laid where appropriate."
A police spokesperson declined to say whether the other three suspects sprayed ketchup on the building, citing the diversion program.
Loubani, who was part of a group of protestors who gathered outside of Fragiskatos's office Wednesday, said police had recently showed up at his home multiple times while he was away doing humanitarian work overseas.
"I just arrived to London and I told them if they want to come get me, they can come get me," he said in an interview Wednesday.
Loubani confirmed he was at the Oct. 22 protest but declined to say whether he sprayed the ketchup.
"Once we have the allegations, once we see the evidence, then I'll make my defence, but until then, I'm not going to make my defence publicly. I want to see what the police have and what they say," he said.
A photo posted on Loubani's X account at 7:30 p.m. Wednesday appeared to show him being arrested.
Loubani's lawyers, Arash Ghiassi and Riaz Sayani, released a statement after he was released from custody.
"The London police's heavy-handed approach to political protest is this case is incompatible with the Charter right to freedom of expression. The police could have released Dr. Loubani immediately. Instead, they refused to release Dr. Loubani unless he agreed to a condition preventing him from protesting against MP Fragiskatos. Dr. Loubani refused to agree to such a condition and the police kept him in jail overnight," the statement said.
Pro-Palestinian activists have been critical of Fragiskatos's response to the conflict between Israel and Hamas, the militant group that governs Gaza.
The long-simmering conflict was reignited on Oct. 7 when Hamas launched an attack on Israel that killed more than 1,400 people, most of them civilians, and took 242 people hostage, four of whom were later freed. Israel responded by attacking Gaza, a densely populated enclave of 2.2 million people, with airstrikes and a ground invasion. More than 10,000 people, including thousands of children, have been killed in the operation, now in its second month, according to Gaza's Hamas-run health ministry.
Tensions from the deadly conflict have led to massive demonstrations in cities across Canada calling for an immediate ceasefire. There have been weekly rallies in London, drawing hundreds of protesters.
Most recently, around 1,500 demonstrators gathered Sunday in Victoria Park before marching through downtown streets under police escort. A speaker at the event told those in attendance to email and call Fragiskatos to demand he call for an immediate ceasefire, something he has resisted.
Fragiskatos said his office has been bombarded with emails and calls, including one that was threatening and reported to police. The office has been the site of daily protests that continued on Thursday, forcing the office to close to constituents.
The three-term MP called the charge against Loubani "a police decision" and said he didn't have a position on it.
"As with any police matter, it would be inappropriate for any elected official to comment on it," Fragiskatos said.
"People have a right to express themselves. Those who are calling for a ceasefire have the right to do so . . . But I've made my point of view known as to why I don't think that would be an affective course for the government of Canada to take."
Fragiskatos has said a middle power such as Canada should focus on the humanitarian response to the conflict, rather than calling for a ceasefire, a demand only the United States is in position to make.
Shortly before his arrest, Loubani accused London police of trying to silence him.
"At the end of the day, for the police to show up at my home multiple times trying to arrest me over what, if the allegations are true, is fundamentally ketchup on a wall, it really does speak of attempting to sort of silence our protests and silence our dissent," he said.
"I can't imagine that this kind of offence warrants this kind of reaction. So to me, really, the police are kind of participating in the suppression of political speech here."
Born in Kuwait, Loubani lived in Palestine as a child before his family came to Canada as refugees when he was nine, settling in Bathurst, N.B.
Loubani and Toronto filmmaker John Greyson, who grew up in London, made international headlines in 2013 when the pair was detained in Egypt while travelling to Gaza for a medical mission. The men were arrested in Cairo and spent more than 50 days in jail, accused of supporting the deposed president Mohamed Morsi and the Muslim Brotherhood.
In 2018, Loubani was shot in the leg while treating patients injured in violent clashes in Gaza. He was part of a medical team testing 3D-printed tourniquets on wounded patients as protests unfolded in Palestinian territory.
Loubani, who studied family medicine at Queen's University and emergency medicine at Western University's Schulich school of medicine and dentistry, is authorized to practise at Victoria Hospital, University Hospital and St. Joseph's in London, according to the College of Physicians and Surgeons Ontario.
Loubani is an associate professor at Western University, according to the school's website. University officials didn't immediately respond to a request for comment Thursday.
dcarruthers@postmedia.com
bbaleeiro@postmedia.com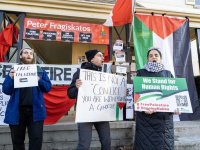 A London doctor and humanitarian activist accused police of trying to silence the pro-Palestinian protest movement.
torontosun.com