"Voice of the West" Party
Apr 9, 2008
21,118
6,208
113
So, here we are in the midst of an inflation and cost of living crisis, Canadians still processing the most recent punch to the gut courtesy of the Bank of Canada, and we have politicians out there showing us repeatedly just how little they get it.
Butter is $9 and Chrystia Freeland is taking victory laps on how inflation is back under control. You know, everywhere except the grocery store where it's never been worse.
Housing unaffordability has never been more severe and Toronto Mayor Olivia Chow is pleased to support the notion of homeowners being bequeathed the right to add expensive secondary suites within their homes to help ease the burden of carrying costs.
We are in the midst of an inflation and cost of living crisis and we have politicians showing us repeatedly just how little they get it.

apple.news
Either the Trudeau Liberals are financially illiterate, or they're hoping you are.
The Liberals have been doing a victory lap this week after inflation fell to
2.8% in June
compared to the same period a year earlier.
That sounds great. In fact, after hitting a recent inflation high of
8.1% a year ago
, it sounds amazing. Here's the problem: It's almost all driven by a drop in the price of gas compared to a year ago while food prices, rent and mortgage payments continue to spiral out of control.
Economists have said the growth in federal spending has contributed to inflation in Canada

apple.news
Bakery products were up 12.9% in June
compared to a year ago, fresh fruit was up 10.4%, dairy was up 7.4% and meat 6.9%. No matter what kind of diet you're following, food is far more expensive than it used to be, but the Trudeau Liberals want you to know that you've never had it so good.
Housing costs, meanwhile, are skyrocketing, and not just the average selling price for a home. Two years ago, the Bank of Canada's
key interest rate was 0.25%
, a year ago it was 1.50% and today it stands at 5%.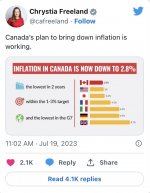 "Mortgage interest costs have also significantly increased, rising over 30% in the past year due to the Bank of Canada's attempts to control inflation," they added. Add in rent jumping 5.8% in the past year, and that adds up to a gaping hole in many people's pocket.
Deputy Prime Minister and Minister of Finance Chrystia Freeland crowed on Wednesday about Canada's inflation rate dropping to 2.8% in June. "Canada's plan to bring down inflation is working," she wrote on Twitter alongside a graphic showing the country's inflation rate leading the G7 and being...

apple.news
Another pointed out the carbon tax having an impact on the cost of living.
"This makes no sense and doesn't reflect the carbon tax that has made everything cost more," the person wrote. "Groceries have not come down in price…. Everything hurts in the wallet right now!
The rising cost of living in Canada that has dominated the headlines over the past year is, in many ways, a story about oil.

torontosun.com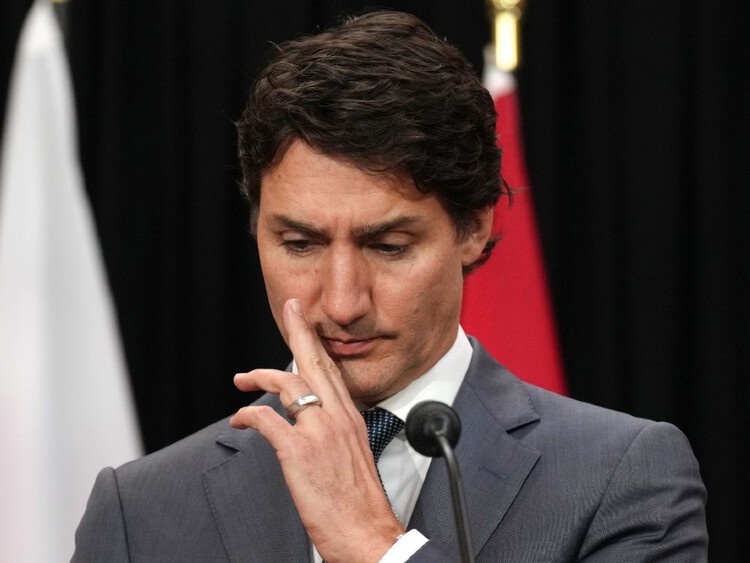 Fewer than one in four Canadians believe that the federal government is spending on the right things, while two in three say their tax burden is too high

apple.news