Sep 6, 2008
37,370
2,687
113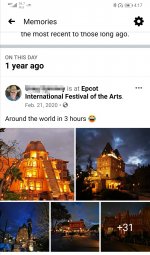 Thank you Facebook for reminding me 1 year ago today I contracted COVID-19, and another died after visiting Walt Disney World..
Jeffrey Ghazarian developed a severe cough a few days after visiting Disney World and Universal Studios in Florida.
... and they are wanting to reopen..
They should be sued.