Oct 9, 2004
45,578
1,203
113
These maze markings are driving motorists round the twist: Residents slam scheme to encourage walking and cycling and predict 'confusing' layouts will cause an accident​
Daily Mail
Liz Hull
1st April 2021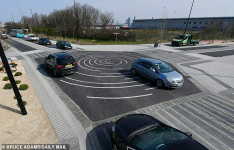 It was designed to get road users on their bikes – but this bizarre junction has simply made drivers' heads spin.
The maze-like markings were added by a council as part of a £3.2million scheme to encourage walking and cycling.
The idea is for drivers and cyclists to slow down or stop before reaching the 'no-priority' junction.
They must then work out how to cross – as there is no right of way.
But motorists in Birkenhead, Merseyside, say it is an accident waiting to happen, with some using the system as a roundabout and others simply crossing it.
One posted online: 'I had a near-miss. I went around and someone behind went straight across – so confusing.'
Wirral Council was unable to explain the thinking behind the spiral markings yesterday.
A spokesman said they 'operate on the basis of all users reducing speed or stopping in order to negotiate the junction safely'.
Pavements have been widened, new walking and cycling routes installed and 130 trees planted as part of the scheme, which aims to give the area a greener, 'European square' feel.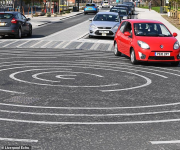 A junction in Birkenhead, Merseyside, has caused mass confusion for road users as the maze-like markings, added as part of a £3.2m council scheme, leave drivers wondering who has right of way
www.google.com