Oct 26, 2009
32,356
2,380
113
New Italian PM joins long line of oddball politicians
Author of the article:Brad Hunter
Publishing date:Oct 02, 2022 • 11 hours ago • 2 minute read • 69 Comments
Newly minted far-right Italian Prime Minister Giorgia Meloni is raising eyebrows across the planet.
Newly minted far-right Italian Prime Minister Giorgia Meloni is raising eyebrows across the planet.
But the J.R.R. Tolkien-loving and quoting prima diva of Italy's notorious "pizza parliament" joins a long list of oddballs from the boot of Europe to take high office.
Since the fascist Il Duce, Benito Mussolini, was the country's ironman — from the 1920s until he was unceremoniously overthrown in 1943 — Italy has been blessed (cursed?) with politicians who might not cut it in Texas.
Here are some of our faves:
BENITO MUSSOLINI
411: Almost a caricature with his bombastic posturing and speeches, the dictator and father of fascism, was a former journalist who took power in 1922. That all ended in 1943 when the Allies invaded Italy. Mussolini and one of his many mistresses, Clara Petacchi, were executed and strung up with piano wire in 1945.
FUN FACT: Call him Il Doggo. Mussolini had hundreds of one-night stands, according to his biography.
ALESSANDRA MUSSOLINI
411: Granddaughter of the famed dictator, the 59-year-old beauty posed nude twice for Playboy magazine and likes granddad's more draconian ideas. She was elected to Parliament in 1992 on a neo-fascist ticket. She now paints and defends her grandfather on social media. Her husband was arrested in connection with child prostitution in 2015. She has surprisingly liberal positions on issues like abortion, same-sex marriage and feminism.
FUN FACT: Alessandra is the goddaughter of screen legend, Sophia Loren.
SILVIO BERLUSCONI
411: The 86-year-old media mogul who ruled Italy on three different occasions between the early 1990s and 2011, gave the words "sex scandals" a whole new meaning. Not to mention accusations of bribery and easy relations with the Mafia.
But it is the notorious "bunga bunga" sex parties — packed with underage prostitutes — that defined the orgy-loving leader. Photos emerged of the parties showing half-naked teenage girls frolicking around Berlusconi's pool.
Then there was "Rubygate" involving 17-year-old Moroccan belly dancer and prostitute Karima El Mahroug, better known as Ruby Rubacuori. She said she was paid $10,000 for every Berlusconi party she attended.
At the orgies, Berlusconi and 20 young women performed naked the African-style ritual known as the "bunga bunga."
FUN FACT: Berlusconi called the "bunga bunga" parties "carefree elegant dinners." He paid the girls because it was just part of his "charitable nature."
CICCIOLINA
411: The famed Italian porn star (real name Illona Staller) has been in politics since the late 1980s and even founded the Party of Love with her friend and fellow porn star, Moanna Pozzi. In the days before the Gulf War kicked off in 1990, Cicciolina, now 70, offered to have sex with Iraqi dictator to keep the peace.
FUN FACT: Cicciolina is a top-notch chess player.
GIORGIA MELONI
411: Meloni's far-right political views are causing coronaries in the corridors of European left-wing power. She has admitted she admires Benito Mussolini, and sounds like a Southern Baptist on social issues. The blond beauty is a hardcore fan of fantasy fiction, particularly Tolkien and his Lord of the Rings. She calls it a "sacred text."
FUN FACT: Her partner, Andrea Giambruno, works for Berlusconi's Mediaset TV channel.
bhunter@postmedia.com
@HunterTOSun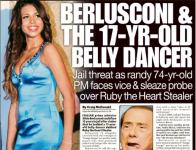 Alessandra Mussolini shared a post on Instagram: "Ci vediamo domani sera per l'ultima puntata di "Nudi per la vita" su @instarai2 @bluyazmine @bmore_management @nando_moscariello . . . #artist #rai #nudiperlavita #prevenzione #show #domani #rai2 #sguardi #shooting". Follow their account to see...
www.instagram.com
Cicciolina Ilona Staller shared a post on Instagram: "Che bei tempi .buona serata. CICCIOLINA". Follow their account to see 11930 posts.
www.instagram.com
Newly minted far-right Italian Prime Minister Giorgia Meloni is raising eyebrows across the planet.

torontosun.com