Oct 9, 2004
46,047
1,277
113
The full results for all candidates for London Mayor were:
Sadiq Khan (Labour): 1,206,034
Shaun Bailey (Conservative): 977,601
Sian Berry (Green): 197,976
Luisa Porritt (Liberal Democrat): 111,716
The minor party and independent candidates were as follows:
Niko Omilana (Independent): 49,628
Laurence Fox (Reclaim): 47,634
Brian Rose (London Real): 31,111
Richard Hewison (Rejoin EU): 28,012
Count Binface (Count Binface for Mayor of London): 24,775
Mandu Reid (Women's Equality Party): 21,182
Piers Corbyn (Let London Live): 20,604
Vanessa Hudson (Animal Welfare): 16,826
Peter Gammons (UKIP): 14,393
Farah London (Independent): 11,869
David Kurten (Heritage): 11,025
Nims Obunge (Independent): 9,682
Steve Kelleher (Social Democrats): 8,764
Kam Balayev (Renew): 7,774
Max Fosh (Independent): 6,309
Valerie Brown (Burning Pink): 5,305
Khan: Covid doesn't care if you are a Brexiteer or a Remainer​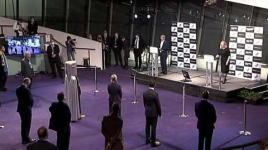 London Mayor Sadiq Khan promises to "strain every sinew to help build a better and brighter future for London after the dark days of the pandemic".
"I am proud to have won an overwhelming mandate today," he says.
Addressing those Londoners who didn't vote for him he says: "I will never ignore your voice, your concerns or your worries."
He says the city and the country are divided - "the scars of Brexit remain, a crude culture war is pushing us further apart," he adds.
"We must use this moment of national recovery to heal those divisions.
"Coronavirus doesn't care if you are a Brexiteer, a Remainer or woke."
He says it is better to build bridges rather than walls and promises to "build bridges between City Hall and the government".
Bailey: Londoners didn't write me off​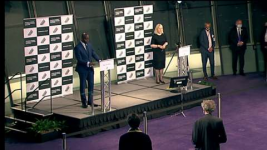 The Conservative candidate Shaun Bailey now makes his speech.
He says he was "written off" by pollsters, journalist and other politicians.
"But Londoners didn't write me off," he says.
"As a poor boy, you learn that Londoners are generous of spirit and will give you a hearing."
Mr Bailey congratulates Mr Khan but adds that he hopes the re-elected mayor won't "blame everything on the government".