This is probably some of those lovely asylum seekers the lefties want us to take in...
Isle of Wight: 'Military assistance' sought over tanker stowaways
BBC News
25th October 2020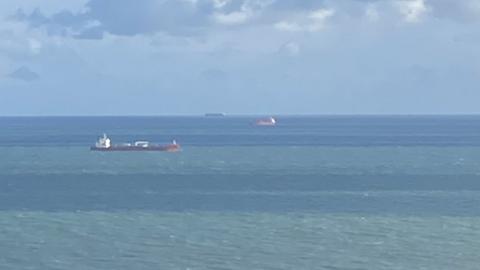 The Nave Andromeda (in the middle of the three boats) has not been hijacked, the lawyers representing the tanker's owners have said
Military assistance has been requested over an "ongoing incident" on board an oil tanker situated off the Isle of Wight, the BBC understands.
The crude oil tanker, the Liberian-registered Nave Andromeda, is known to have stowaways on board and was due to dock in Southampton earlier.
Richard Meade, editor of shipping news journal Lloyd's List, said there were thought to be seven stowaways on board.
He said it was believed they had become violent towards the crew.
BBC defence correspondent Jonathan Beale said Hampshire police had requested military assistance but it was not clear what support had been requested "and whether it will be activated or requested for back up".
Police said no-one had been reported injured and a three-mile exclusion zone was in place near the vessel.
Concerns over the crew's welfare were raised at 10:04 GMT when the vessel was six miles off Bembridge, police said.
A spokesman said "verbal threats" had been made towards the crew.
The 240ft-long (73m) ship is known to have left Lagos in Nigeria on 5 October and is currently situated south of the Isle of Wight.
Lawyers for the vessel's owners said they had been aware of the stowaways on board for some time.
Mr Meade said: "They discovered seven stowaways on board the vessel. When the crew tried to detain the stowaways in a cabin they got violent and that sparked the security incident.
"This wasn't a hijacking attempt. This was the fact that they discovered stowaways on board and the stowaways didn't want to be locked in a cabin."
Isle of Wight MP, Bob Seely, said: "The ship is very visible from the eastern side of the island. What the main thing is now, is how serious the situation is."
https://www.bbc.co.uk/news/uk-england-hampshire-54684440