Ethiopia's Tigray crisis: 'Civilians massacred', says Amnesty International​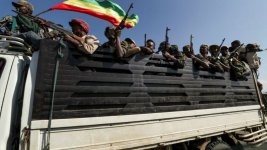 "Scores and probably hundreds" of civilians have been massacred in the growing conflict in Tigray in northern Ethiopia, Amnesty International says.
Witnesses blamed forces loyal to the Tigray People's Liberation Front (TPLF) for Monday's killings but Amnesty says it cannot confirm this.
Fighting between government forces and the TPLF broke out last week.
Getting information is hard, with phone lines and the internet down and neither side has commented on Amnesty's report.
This would be the first large-scale killing of civilians in the conflict.
There has been long-standing tension between Ethiopia's government and the TPLF, which controls Tigray, the country's northernmost state, and it has boiled over into military clashes, including air strikes by federal forces.
As a result, thousands of civilians have crossed the border into Sudan, which says it will shelter them in a refugee camp
"Scores and probably hundreds" were hacked to death on Monday in the Tigray region, the group says.