Oct 9, 2004
47,107
1,464
113
Brooch containing Lord Nelson's hair sells for thousands​
BBC News
Saturday 24th September 2022
Horatio Nelson was born in Norfolk and was the sixth child of the Reverend Edmund Nelson and his wife Catherine

A brooch containing a lock of Lord Nelson's hair, given to an officer who fought alongside him, has sold for £9,000 at auction.
The memorial gilt item fetched more than double the predicted £4,000 at Cambridge-based auctioneers Cheffins.
It had been in the "continuous ownership" of descendants of William Waldegrave, 1st Baron Radstock.
He served with the Norfolk-born Royal Navy hero at the Battle of Cape St Vincent on 14 February 1797.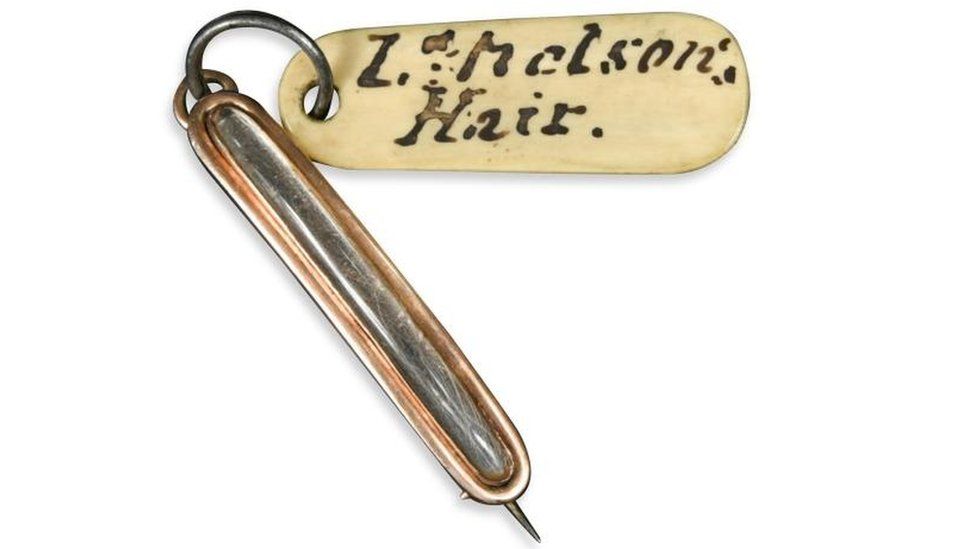 The gilt brooch clearly states that it includes Lord Nelson's hair
Admiral Horatio Lord Nelson
(1758-1805) was famed for leading the British to victory over the French during the Napoleonic Wars, including the
Battle of Trafalgar
, where he was killed in action.
William Waldegrave entered the Royal Navy in 1766, aged 13, and was third in command beneath Nelson at the Battle of Cape St Vincent.
A memorial snuff box, inset with a silvered metal portrait medallion of Nelson, sold for £750.

A snuff box, featuring an image of Lord Nelson, also sold
Nicolas Martineau, director at Cheffins Fine Art Auctioneers, said the 1797 battle, off the south-west tip of Portugal, showed Nelson as a "brilliant if not reckless tactician".
"It was these examples of daring and bravery that went on to make him the most celebrated figure in British naval history," he said.
The memorial gilt item fetches more than double the predicted sale price at auction.