Nov 21, 2008
103,656
8,246
113
Follow Ukraine_tbic on Youtube and Instagram
This guy has my unfettered respect.
Who is he and what is he doing? As well as putting his ass on the line as a combat medic he has been fund raising on Instagram and YouTube.
PayPal
ukraine_tbic@gmail.com
20-11-39 33343847
Swish 0763465261
E transfer
jenmitchell@rogers.com
What started as a campaign to buy helmets for the volunteers of the Ukrainian Hospitallers Battalion has snowballed into a campaign of purchasing medical supplies, radios, tactical gear, vehicles, generators and even delivering pizza to frontline troops in Bakhmut. His efforts are going directly to aid civilians and UA forces right on the front. So far he has raised over $200K.
If you can spare a few bucks dont hesitate on donating. He posts videos regularly showing what was bought and the deliveries made to the front so you know no funds have been wasted on administration and other bullshit.
Yesterdays delivery.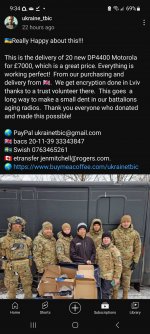 DO IT! You will save lives.
There are a few articles going around so Ill post one from ForceX.ca and save myself a few thousand pecks to my screen. Its from 6-7 months ago but still a read read.
Who is ukraine_tbic?
Ukraine_tbic also known as Brandon is a Canadian/British veteran with 5 years service in the Canadian and British forces. When the invasion of Ukraine happened he was called to serve again. This time he chose the Ukrainian Hospitallers Battalion as a Volunteer Combat Medic. After arriving in country he received the required job specific training and was stationed at field hospitals in the Zaporizhzhia and Donbas Regions.
He started his instagram on April 27, 2022. Day 49 of his service in Ukraine. His original goal was to simply raise awareness about what medical personnel were facing on the front lines in Ukraine. He started to post about their duties as well as the animals that flocked to them for food and love. Brandon's goal changed from just raising awareness to trying to raise funds for authentic medical equipment, medications, ballistic equipment, and where we find ourselves today a 4 wheel drive vehicle to use as a field ambulance.
As he gained more followers he was able to crowdsource enough funds for not just one, but two 4 wheel drive vehicles! Naturally the next move was to track down these vehicles, every lead in Ukraine seemed to dry up and when he wasn't sure if it was the right call he asked us "should we go get them in germany?". After a resounding yes from the community off he went with luscious Scottish companion and fellow volunteer Des. As of today, May 31 2022 they have successfully purchased both 4x4 vehicles, one automatic and one manual. Thanks to the kindness of German followers they also acquired generators, protective clothing and more. Now it's the drive back to Ukraine, follow the adventure as they do the best they can on his Instagram.
Brandon is a little bit of all of us, the type of person you know you can get along with, someone who shares the same moral standing and understanding of what's right and what's wrong. A human who puts their life on pause for the lives of other humans but also animals is a human we can all aspire to be.
дякую​
Last edited: