+2
#1

Top Rated Post
Nov 22nd, 2012
It gets better...




Blind, Deaf, 3-Legged Dog Named 'True' Saves Oklahoma Family From House Fire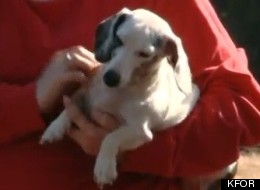 Katie Crosley and her baby son, Jace, lost everything in an house fire, but they survived thanks to a
heroic three-legged, blind and deaf dog
(external - login to view)
, KFOR reports.
Crosley had no idea that an electrical short set her Grady County, Okla., cabin aflame as she slept soundly on Sunday morning, but her
disabled Dachshund, True, sensed the danger
(external - login to view)
, according to the news outlet. The rescue dog woke his owner, and she was able to get out of the burning house with her baby, Jace.
"We're thankful for him,"
Crosley told KFOR of True
(external - login to view)
. "This could have been a bad deal."
more
Blind, Deaf, 3-Legged Dog Named 'True' Saves Oklahoma Family From House Fire
(external - login to view)