Oct 26, 2009
29,560
1,462
113
Woman's finger ripped off at West Edmonton Mall waterslide
Canadian Press
Published:
August 14, 2018
Updated:
August 14, 2018 5:24 PM EDT
Claire Clark's hand is shown after an amputation following an accident at the West Edmonton Mall waterslide in this recent handout photo. Dave Clark / THE CANADIAN PRESS
SASKATOON — A Saskatchewan woman says she lost a finger after her ring got caught on a waterslide at one of the largest malls in North America.
Claire Clark was celebrating her granddaughter's third birthday at West Edmonton Mall's water park on Aug. 5 when Clark decided to take a ride on a slide called the Corkscrew.
She said she was grabbing onto a thin piece of mesh and foam padding at the top to push herself down when she got snagged.
Swimmer enjoy West Edmonton Mall's indoor Water Park. The massive park has a wave pool, water slides, children and family areas, a surfing pool and more. (Supplied/City of Edmonton)
"My ring caught on that thing that I grabbed and it ripped off my finger, and my finger went with it," Clark said. "It was awful."
Clark said the skin on her right ring finger was torn at the first knuckle and there was only bone on the rest of the finger.
Clark said she remembers going down the slide and holding her hand so that she wouldn't get blood everywhere. She lifted it to make sure it didn't go under the water.
"Then I said to my husband, 'We have to go get first aid. Look at my finger.' And so I showed him my finger and I thought he was going to pass out because it's kind of ugly."
Clark's 28-year-old daughter found the finger and pointed it out to a lifeguard, who dove into the pool to retrieve it and the ring.
A plastic surgeon at the University of Alberta hospital told Clark that there was nothing left to sew the finger back into and it had to be amputated. The surgeon did the procedure that day and Clark has six millimetres of her finger left.
Clark, who has three children and five grandchildren, said her finger hurt a little bit after it happened, but not very much. She gets her stitches out on Monday.
West Edmonton Mall said it was unable to comment on what happened because of an internal investigation.
Clark wants the mall to advise people who are wearing jewelry to take it off before they go down the waterslides.
She was working again at her job as a mobile mortgage specialist for RBC the same night she lost her finger and plans on seeing an occupational and physical therapist.
She said she'll never go to a water park again.
"I didn't lose my life. So I'm happy about that," Clark said.
"I'll have tears once in awhile and I'll wish I could get my finger back sometimes, but I don't think I ever will."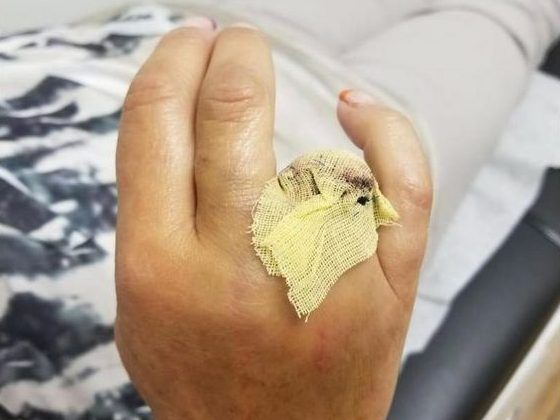 http://torontosun.com/news/national/womans-finger-ripped-off-at-west-edmonton-mall-waterslide