Oct 9, 2004
47,569
1,532
113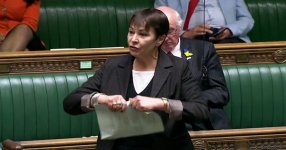 Virtue Signal Received!
Green Party leader and MP for Brighton Pavilion Caroline Lucas copied Skeletor Pelosi when she ripped up the Bill which ensures those immigrants arriving in Britain across the Channel have done so illegally.
Of course, the Bill the trout ripped up is just a copy of the real one and the law still stands, but at least she was able to do her pointless lefty virtue signalling.
Being a tribute act to Pelosi is worse than nicking an Afghan's flip-flop...
Last edited: