Oct 9, 2004
43,546
655
113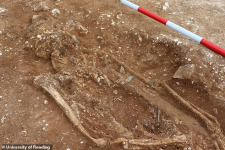 The remains of an Anglo-Saxon warrior dubbed the 'Marlow Warlord' who lived during the 6th century AD have been uncovered by metal detectorists.
The 6ft-tall warrior had been buried on a hilltop alongside an ornately decorated scabbard, a selection of expensive luxury items, spears and glass vessels
The pagan burial site had remained undiscovered for more than 1,400 years until it was found by Sue and Mich Washington using metal detection equipment in 2018.
University of Reading archaeologists excavated the site near Marlow in Berkshire in August this year - as it was 'very shallow' and 'at risk from farming activity'.
The discovery of the site, complete with the remains of a 'formidable warrior', suggests this region was more important in post-Roman Britain than first thought.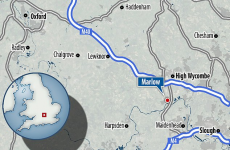 Reading researchers say it was the first discovery of its kind in the mid-Thames basin - an area often overlooked by experts in favour of the Upper Thames and London.
The burial site was found in a field in Berkshire near Marlow but the exact location hasn't been revealed due to the risk of people 'descending on the site' and disturbing the archaeological work.
A team involving archaeologists from the University of Reading and local volunteer groups carried out a two-week excavation of the site in August 2020.
This activity included a geophysical survey, test excavations, and a final excavation of the grave site to uncover the full glory of the warlords burial hoard.
Found buried with the Marlow Warlord were a sword with an exceptionally well-preserved scabbard made of wood and leather with decorative bronze fittings - making it one of the best-preserved sheathed swords known from the period.

There was also a selection of spears, bronze and glass vessels, dress-fittings, shears and other implements - all currently being conserved for further study.
The man, who was buried on a hilltop site with commanding views over the surrounding Thames valley, must have been a high-status warlord, the team believe.
Read more: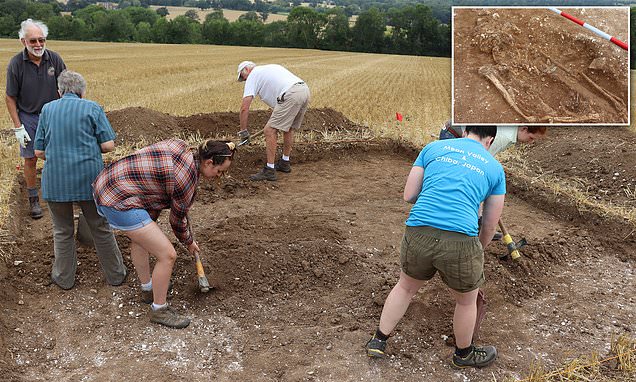 Archaeologists from the University of Reading excavated the site near Marlow in Berkshire in August this year as it was 'very shallow' and 'at risk from farming activity'
www.dailymail.co.uk
Last edited: