Oct 9, 2004
48,127
1,615
113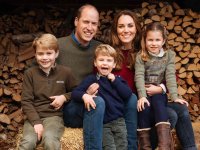 The Princess of Wales has delivered a speech on early childhood at the 'Shaping Us' national symposium in London on Wednesday.
Catherine has given birth to three children who are very important nationally: Prince George, Princess Charlotte and Prince Louis, who are second, third and fourth in line to the Throne respectively after their father Prince William.
Princess Catherine, 41, seemed nervous leading up to her speech but carried it off with aplomb.
What a much classier couple the Prince and Princess of Wales are compared to Prince Harry and Meghan!
Last edited: