Oct 9, 2004
45,576
1,203
113
Prehistoric human bones in Guernsey discovered by coastal walker​
BBC News
Wednesday 7th April 2021
The bones likely came from around four individuals

Prehistoric human bones have been found by a man walking around Guernsey's north coast.
An archaeologist estimated the remains were between 4,000 and 5,000 years old from the pottery and flint found alongside them near L'Ancresse.
Phil de Jersey said they were waiting for results from radiocarbon dating analysis to get a precise age.
Dr de Jersey said the bones were likely to be from a Neolithic burial site and were in an "odd arrangement".
The States of Guernsey archaeologist said the man who initially found the fragments of bones among rocks by Fort Pembroke reported them to police.
Phil de Jersey at the site where the bones were found
After the remains were found, officers asked Dr de Jersey to establish whether or not they were human and to estimate their age.
The archaeologist said they were likely to be from around four individuals and the fragments of skull, arm, leg and spinal bones were not a "simple burial".
Humans in the Neolithic period, around 4,000 to 5,0000 years ago, did "odd and interesting things" with bones, including removing them from burial sites for cremation or rearrangement, Dr de Jersey explained.
He said: "What we call curating the bones, looking after them long after people died."
"I think what we've got here is some kind of process, some sort of ritual they did with their ancestors. Perhaps a long time after they died."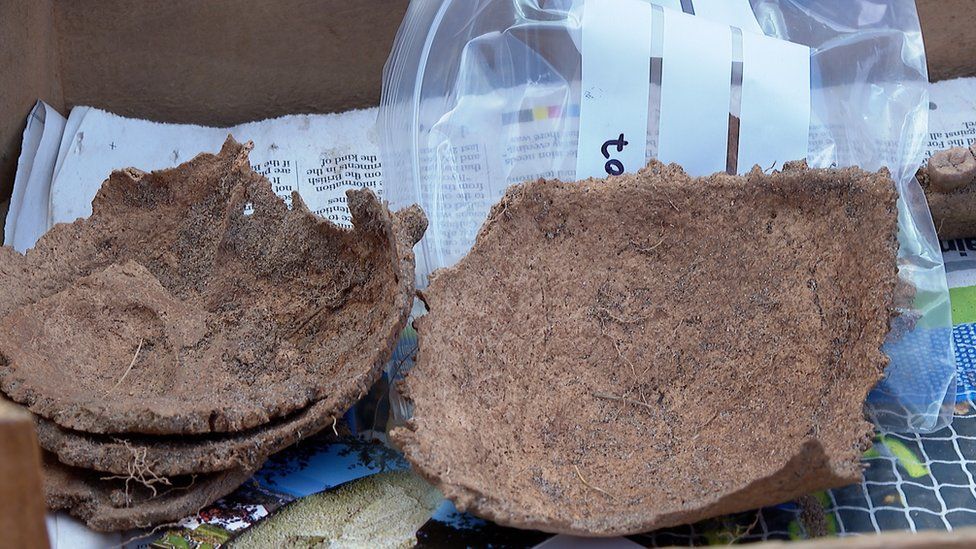 Skull fragments found at the site
The bones were found near L'Ancresse on Guernsey's north coast
Dr de Jersey added it was "hard to say" why the specific location was chosen but he expects a prehistoric tomb, known as a dolmen, was associated with the area.
"The question is whether it is out to sea, totally washed away, or whether it might actually be back further back in land under the sand covering the headland."
He said they would be monitoring the area where the bones were found to see if any further evidence emerged, as the area was not "immediately threatened" of being lost to the sea or other construction.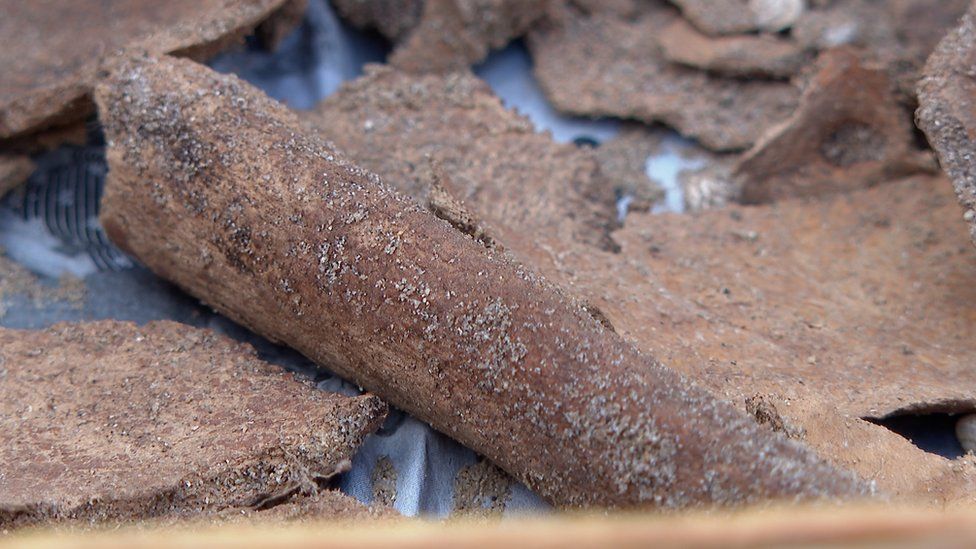 Parts of a human femur
A man walking around Guernsey's coast finds bones estimated to be between 4,000 and 5,000 years old.