Oct 9, 2004
45,575
1,203
113
Metal detectorists' Welsh finds declared treasure​
BBC News
Tuesday 30th March 2021
Medieval gold coins found in Llanwrtyd, Powys, were among nine items declared "treasure"

Coins and rings discovered by metal detectorists in Powys have been officially declared as treasure.
An early medieval silver fastener found in Churchstoke is thought to be the first of its kind discovered in Wales.
The finds also included gold and silver coins, finger rings and personal items from wealthy families, dating from the ninth to 17th Centuries.
National Museum Wales experts said the finds added "important new knowledge and understanding of our past".
Dr Mark Redknap, from the national museum, said the silver fastener provided "new evidence for the exposure of Anglo-Saxon styles within the early Welsh kingdoms, and of the melting-pot of styles and influences from which Welsh identity was to emerge".
Nine items uncovered by the metal detector enthusiast were all officially declared as treasure by the assistant coroner for South Wales Central at a hearing in Monday.
They were:
A late medieval silver ring found in Tregynon, Powys
A medieval silver bar-mount found in Llancarfan, Vale of Glamorgan
Two post-medieval gold rings, one found in Talgarth and another in Carreghofa, both Powys
A medieval silver brooch found in Montgomery, Powys
A Tudor silver coin hoard found in Churchstoke, Powys
An early medieval silver fastener found in Churchstoke, Powys
A 17th-century gold coin hoard found in Trefeglwys, Powys
A medieval gold coin hoard found in Llanwrtyd Wells, Powys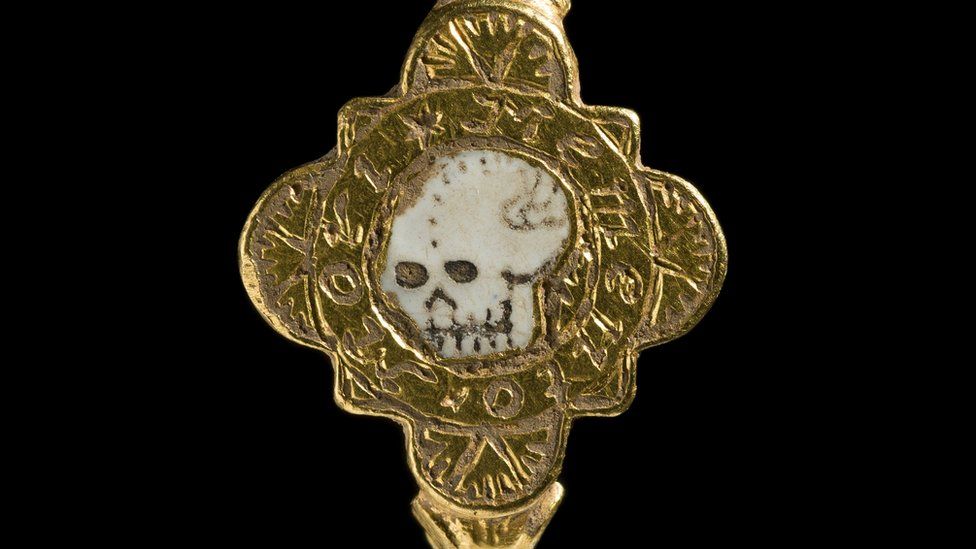 A gold ring was found in Carreghofa, Powys, and said to be dated between 1550-1650.
The three medieval gold coins found in Llanwrtyd were discovered in April 2019 and are said to be from the reigns of Edward III and Richard II - between 1327 and 1399.
The newly opened Y Gaer Museum (The Fort Museum) in Brecon hopes to acquire the coins.
The museum's Senior Curator Nigel Blackmore said: "Very few gold coins have been discovered within south Powys, so we would welcome the possibility of adding these to the museum's new medieval displays."
Some of the other items, including the silver fastener, are hoped to be acquired by the National Museum of Wales.
Y Lanfa Powysland Museum and Welshpool Library hopes it can acquire the five silver coins, as it does not yet have any examples of any from the 16th century that were found locally.
National Museum Wales says that between 20 and 45 treasure cases are reported in Wales each year as finds made by the public, usually metal detectorists.
Treasure items must be legally reported to the Portable Antiquities Scheme in Wales and National Museum Wales.
Once declared treasure, the items can be valued and acquired by other museums, with the value going to the finder as a reward.
A medieval gold ring with skull emblem was one of the more "unusual" finds discovered in Powys.
Last edited: