Oct 9, 2004
48,136
1,618
113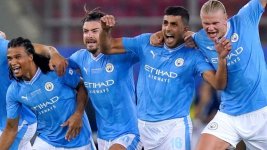 English football dominates: On the day the Women's European Champions England reached the World Cup Final the English and European club champions Manchester City beat Sevilla (Seville) to win the Super Cup.
It seems that, right now, almost nobody can beat Manchester City.
The Super Cup sees last season's European Cup winners up against last season's Europa League winners...
Last edited: