Oct 9, 2004
48,127
1,615
113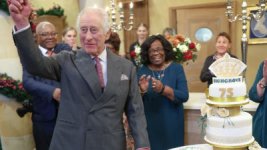 The King has attended a celebratory tea party at Highgrove House to mark his birthday, along with individuals and organisations who have recently turned 75 as well.
During the event the King was sung to by the Rock Choir and cut an impressive three-tier cake before joking "You've probably eaten too much already. We need to give you doggy bags to take home".
Highgrove House near Tetbury, Gloucestershire, is the family residence of the King and Queen and is owned by the Duchy of Cornwall. It became under the control of Prince William when he took over from his father as Duke of Cornwall when his father ascended the Throne on 8th September 2022.
King Charles III was born at Buckingham Palace on 14th November 1948.