Oct 9, 2004
48,127
1,615
113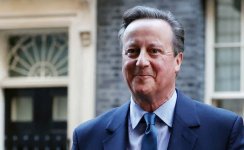 The King has made ex-Prime Minister David Cameron a life peer to allow Prime Minister Rishi Sunak to appoint Cameron as the new Foreign Secretary in Sunak's Cabinet reshuffle, with Cameron clearly delighted at his unexpected promotion.
Cameron was Prime Minister from 2010 until 2016, when he resigned after losing the EU in/out referendum.
Sunak has removed Braverman as Home Secretary and put in former Foreign Secretary Cleverly as new Home Secretary...
Last edited: