The moral degeneration of our times
By Si Ji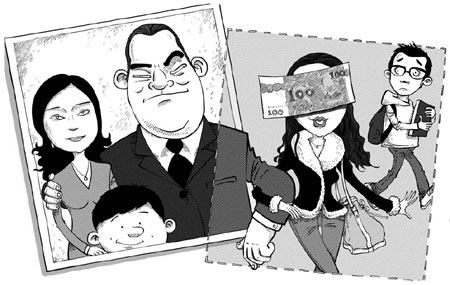 Every generation is different from the previous one. But the total absence of moral values among some people born between the late 1980s and early 1990s makes them different in a sadly different way.
As young girls, we were taught to look for knowledge and integrity in a man, and marry the one who we loved. (In earlier times, women were taught to love the man they were married to, though.) Sex was always a deepening of intimacy that came only with a relationship of trust. But some girls today consider such values old-fashioned moral rhetoric.
These are different times. These are times of some young women (and men) looking for rich and powerful partners. It doesn't matter to them even if the rich and powerful men (or women) are already married, because they can always become their concubines (or male paramours). Call them gold diggers, if you will.
Perhaps the worst example of gold digging is a list "published" by some students of 12 Shanghai universities in July. It was meant for rich men and women interested in supporting them as concubines and male paramours. The "prices" the students put on themselves ranged from 20,000 yuan ($3,011) to 500,000 yuan ($75,284).
There's nothing wrong with girls and boys seeking fun, but some of them want a different kind of fun and a lot of funds to go with it. It's true that girls are taught to marry the man who is capable of providing for them and their children. But gold diggers have taken this lesson to a whole new level. They aspire, without a trace of embarrassment, to a life of leisure "earned" through relationships with rich and powerful men.
The other day, I was shocked when a roommate of my 20-year-old niece, who is in college, told me how she planned to become a rich woman. She said she was keeping her "eyes open for a rich man irrespective of his age". What shocked me more is that many of her friends didn't see it as an aberration.
So, has gold digging become a viable career option for women? One may be forgiven for thinking so, especially after seeing that TV programs for lonely hearts to find partners have no qualms about encouraging gold digging. They teach participants that there is no romance without finance and a woman's best route to success is by marrying a rich man.
Eighteen wealthy men in Guangzhou, capital of Guangdong province, issued an advertisement seeking young partners a few months ago. They wanted the girls to be between 25 and 26, more than 1.65 meters tall, and most importantly, have the facial features (read beautiful enough) to help their would-be husbands' material progress. More than 1,000 girls who were in the first round of the "competition" had their "faces read" by a "master" hired specifically for the job.
If this is not a naked display of wealth and worse still naked worship of wealth, then what is? And we thought we had traveled a long way on the road of social reform.
It is not difficult to find the reasons why some women want to have relationships with rich men. A woman who is in such a relationship can have the best comforts of life, get expensive gifts, go on dream vacations, stay in the best hotels, dine in the best restaurants and drive luxurious cars. She can enjoy the power that comes with wealth and change from a "Miss Nobody" to "Miss Somebody" overnight.
But who will tell them that life is not only about money and power, but also about dignity and struggles? Who will tell them that the moment they enter such a relationship, they turn themselves into a commodity? And who will tell them that true happiness cannot be bought or sold?
China Daily