Large Medium Small HELSINKI - The second in a pair of the largest cruise liners in the world -- an extravagant behemoth spanning nearly four football fields, with a 3-D movie theater, an open-air central park and room for 8,300 people -- set sail Friday for its new home port in Florida.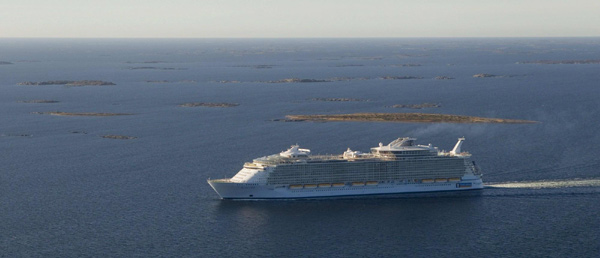 The world's largest cruise liner, the MS Allure of the Seas, sets sail from Turku ship yard, early morning Oct 29, 2010. The vessel, delivered from South Korean shipbuilder STX to Royal Caribbean Cruise Lines yesterday, is 360 metres long, towers 72 metres above the waterline, has 16 passenger decks, with 2,700 cabins, and can accommodate 6300 passengers and some 2,000 crew. [Photo/Agencies]
The Allure of the Seas, which cruised out of the shipyard in Turku, southwestern Finland where it was built, faces its first big test Saturday, when it must squeeze under a Danish bridge, just one foot (30 centimeters) taller than the ship -- even after its telescopic smokestacks are lowered.
Related readings:


Luxury cruise lines to help build cross-Straits ties
(external - login to view)

Travel Picks: 10 top cruise ships
(external - login to view)

Blue lights illuminate Hamburg for 'Cruise Days'
(external - login to view)

Large harbor for cruise ships to begin operation

(external - login to view)


The gigantic vessel is the sister ship of the Oasis of the Seas, which was also delivered to Royal Caribbean Cruise Lines last year with a price tag of about $1.5 billion. The Allure of the Seas is in the same price range, said Juha Heikinheimo, managing director of STX Finland, which constructed the vessel. Like its twin, the Allure of the Seas spans 1,200 feet (360 meters) from bow to stern, and its height from sea level is 236 feet (72 meters).
It can accommodate 6,300 passengers and some 2,000 crew, and has dozens of restaurants, cafes and bars along a promenade shopping street that includes a park with living trees and numerous plants. The ship boasts a two-deck high dance hall, a 1,380-seat theater and an ice skating rink, numerous pools, spas, gyms and a rock climbing wall.
It boasts the Rising Tide Bar as one of its showpieces -- an elliptical restaurant platform accommodating 50 customers that ascends and descends a vertical distance of 32 feet (10 meters) between the central park and promenade.
The ship's home port will be Fort Lauderdale in Florida, where it is expected to arrive in a few weeks. Its departure was delayed Friday by more than two hours because of extensive fog in the harbor.
Like the Oasis of the Seas, it is scheduled to pass under the Great Belt Fixed Link off the Danish coast. Last year, the other ship passed below the bridge with less than a 2-foot (half-meter) gap, bridge operators said.
The shipping line said that cruise travel, especially in the United States, had picked up since the global downturn and that their cruise bookings were nearly full.
"Markets have developed well. We are not in the same situation as we were before 2008," said Harri Kulovaara, a deputy director at Royal Caribbean. "Our bookings have been full for a year, down to almost the last berth."
Construction of the Allure of the Sea at STX Finland's Turku yard began in February 2008. The company employs 3,300 people in Finland, of whom 1,100 are currently laid off. More layoffs are expected with no new projects until next autumn when the Turku yard is expected to begin the construction of a passenger ferry.
STX Finland is part of the international STX Europe Group, with shipyards in Brazil, Norway, France, Romania and Vietnam.

Previous Page 1 2

(external - login to view)

Next Page

(external - login to view)


Previous Page 1 2

(external - login to view)

Next Page

(external - login to view)