Just 5 months before the 2010 World Cup, John Terry's role as England captain is in doubt after his affair with his best friend's girlfriend has been revealed.
It has been revealed that Terry - who is also Chelsea captain - had an affair behind his wife's back with the girlfriend of his best friend, Manchester City and England star Wayne Bridge, last year.
Bridge was Terry's teammate at Chelsea until Bridge moved to Manchester City for £10 million last year. Bridge's French girlfriend, Vanessa Perroncel, wished to stay at their luxury home in Surrey, so the couple were separated by 300 miles. The long-distance relationship wasn't working so the pair decided to end their relationship in July last year.
Terry, who married his wife Toni - who he has twins with - at Winston Churchill's birthplace of Blenheim Palace last year, then offered "emotional support" to the couple, phoning Bridge and going round to their house to console Vanessa. Then, in September, the couple started an affair. Terry got Vanessa pregnant and forced her to have an abortion.
Knowing the colossal damage it would do to his reputation and his lucrative sponsorship deals if word got out, Terry swore ­Vanessa to ­silence.
He then hired heavy-handed lawyers to put in a gagging injunction at the High Court 10 days ago banning newspapers from printing the story.
Terry gets paid £170,000 a week at Chelsea.
The draconian order was overturned at 2pm on Friday in a landmark ruling by Mr Justice Tugendhat - and now the full story is being printed in the press.
Terry's Chelsea and England teammates are said to be disgusted with Terry. England stars such as Frank Lampard - Terry's teammate at Chelsea and a former teammate of Bridge when he was at Chelsea - and Rio Ferdinand have phoned Bridge to tell him of their disgust over Terry's behaviour. One unnamed England player has called Terry "scum."
Vanessa and Wayne have a three year old son, Jaydon.
England manager, Fabio Capello, who now faces a split dressing room at the World Cup with England players turning against Terry, must now decide whether to have Terry as captain for England's next game, which is a friendly against Egypt at Wembley on 3rd March, and during the World Cup. Terry - who scored the winning goal in Chelsea's 2-1 win over Burnley in the Premier League last night - became England's captain after the 2006 World Cup, taking over from David Beckham.
It is not the first time Terry has surrounded himself in controversy. In 2001, Terry and several of his Chelsea teammates drunkenly abused American tourists at Heathrow just days after the 9/11 atatcks, whilst they were watching the carnage on TV screens.
Meanwhile, it is likely Wayne Bridge may decide to never play for England again as he refuses to be in the same squad as his former friend.


England captain John Terry got Wayne Bridge's girlfriend pregnant


EXCLUSIVE by

Kate Mansey




31/01/2010




Disgraced England captain, John Terry, got best pal Wayne Bridge's girlfriend, French underwear model Vanessa Perroncel, pregnant last year

And he then ­arranged for devastated Vanessa Perroncel to have an abortion as he shamelessly tried to keep the scandal ­under wraps.

French underwear model ­Vanessa, 28, fell pregnant last ­autumn weeks into her fling with Terry, Bridge's best friend and neighbour.

Terry – who already has two children with long-suffering wife Toni – was left in dread of the news leaking out and ­wrecking his lucrative sponsorship deals.

The defender arranged for the ­pregnancy to be terminated at an exclusive clinic where Vanessa was taken in through a side ­entrance.

A source said: "Terry was gripped by blind panic. Having a love child with the girlfriend of his best pal, who's also a friend of his wife's, would have spelled total disaster – even by his appalling standards of ­behaviour.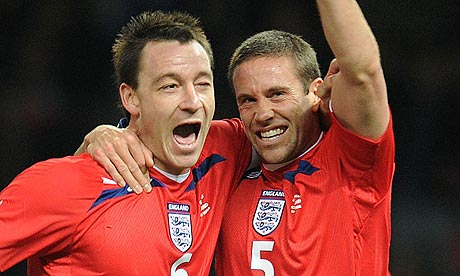 John Terry celebrates with goalscorer Matthew Upson during England's 2-1 win over Germany in 2008. Terry gets paid £170,000 a week at Chelsea.

"Having been caught cheating on Toni so many times and having publicly promised to be 100 per cent faithful, he knew he would be finished as any kind of role model that sponsors want to be associated with.

"He was appalled when Vanessa told him she was pregnant – and all his thoughts were for self-preservation."

The pregnancy and subsequent abortion are, we can reveal, the mystery ­"consequence" referred to by the judge who this week overturned Terry's attempt to keep the affair secret.



Wayne Bridge is set to quit England.





The distraught Manchester City star refuses to be in the same squad as love cheat John Terry.





Unless boss Fabio Capello banishes Terry from the England set-up, Bridge will end his international ­career with 36 caps.



And the revelation will fuel the ­already fevered calls for him to be stripped of the England captaincy.

Meanwhile, we can reveal that Vanessa dramatically confessed the affair to Bridge in a showdown at their £3million Surrey mansion and told him: "I'm sorry Wayne, but John was there for me."

Friends say the affair began last summer as her relationship with ex-Chelsea star Bridge crumbled after he moved 300 miles away to sign for Manchester City.

A friend said: "John and her had agreed a story that they were just friends and that he was helping her through the split."

Speaking exclusively to the Sunday ­Mirror, Vanessa revealed how Wayne called her a week ago when he learned of the legal ­gagging order taken out by Terry to prevent the affair being made public.


John Terry and Toni during their 2007 wedding at Blenheim Palace, Churchill's birthplace. The couple have twins.

She said: "Wayne rang me last weekend and started shouting at me, accusing me of having an affair. It was terrible.

"He was saying horrible things. I thought if all of this comes out it will make things difficult ­because it is a very close community of footballers and their wives.

"I told Wayne I wasn't having an affair but he wouldn't believe me. Wayne was convinced I had been cheating on him because the court action had been taken. It was an agonising call and he was furious."



In the immediate aftermath of September 11, 2001, Terry and Chelsea team-mates Frank Lampard, Eidur Gudjohnsen and Jody Morris were accused of drunkenly mocking American tourists at Heathrow, stripping naked, laughing and vomiting.





Having paid his share of the £130,000 fines imposed by Chelsea, Terry was then involved in a 1.30am fracas at London's Wellington nightclub in 2002 in which a doorman was injured.





He was arrested, spent a night in the cells but was later cleared of charges of wounding with intent to cause grievous bodily harm, unlawful wounding, possessing a bottle as an offensive weapon and affray.





In 2004, Terry's passion for gambling emerged. He was reportedly one of three Chelsea stars, along with Wayne Bridge and Scott Parker, said to have risked £40,000 a week between them on horse and dog races.





One day, Terry and Bridge were said to have blown £13,000 in three hours as they clutched rolls of £50 notes and enjoyed the 'buzz' at Coral's betting shop in Cobham, Surrey.



Vanessa – who has a three-year-son with Bridge – steadfastly stuck to a pact she agreed with Terry not to admit ­anything. But she later crumbled when Bridge confronted her in person.

She said: "I don't want to hurt Wayne any more and I just want to protect my little boy from all this – now he's my most important concern."

And, of Terry, she revealed: "I'm a close friend of his and we are in touch a lot although we don't talk every day. I have known John for eight years, even before I met Wayne and we were close. I still speak to him every other day."

Bridge earlier confronted Terry and accused him of sleeping with Vanessa behind his back. But Terry, lying through his teeth, ­insisted to Wayne that the "rumours" were nonsense and he would never stoop so low.

Bridge was all the more stunned by Terry's betrayal because he had been offering "emotional support" during a sticky patch with Vanessa.

Terry, who earns £170,000 a week, got close to Vanessa after defender Wayne transferred from Chelsea to Man City in a £10million deal in last January.

With Bridge away in the north-west, Terry began giving his "support" to both Wayne and Vanessa, as the couple battled the inevitable problems brought by a long-distance romance.


Wayne Bridge consoles John Terry after England are knocked out of the 2006 World Cup

A pal of Vanessa said: "Things were going sour with Wayne. Vanessa was keen to stay in Surrey and the 300-mile commute meant the couple started drifting apart.

"She felt claustrophobic stuck in the house with their son Jaydon and seeing a lot of Wayne's mother while he was up in Manchester having fun with his new mates."

The friend said: "Terry became closer to Vanessa shortly afterwards, sending her loads of text messages and popping round. He'd always flirted with her. He was constantly dropping in.

"But all the time, he was also on the phone to Wayne giving him advice about how to deal with Wayne's growing ­problems with Vanessa."

Vanessa and Wayne decided reluctantly to call time on their four-year relationship in July – though they ­remained in close contact.

The Chelsea skipper upped his ­interest and by ­September, hypocrite Terry – who was last year voted Dad of the Year in a public poll – and Vanessa were having an affair.

And while homemaker Toni, 28, was looking after her and Terry's three-year-old twins Georgie John and Summer Rose, he was making excuses to sneak out and visit Vanessa.

Knowing the colossal damage it would do to his reputation and his lucrative sponsorship deals if word got out, Terry swore ­Vanessa to ­silence.

But the longer it went on, the more worried Vanessa was about hurting Toni and Wayne.

The pal said: "In December Vanessa tried to call it off because she knew it was wrong but Terry didn't want it to end. She started to realise she'd made a terrible ­mistake."

A friend of Vanessa added: "The sad truth is she still loves Wayne and she wonders if he'll ever forgive her. She wants to get back with him."

Disgusted team mates were yesterday slamming Terry for betraying his best friend and wife, football sources said.

A senior Chelsea insider said: "John Terry has a problem. He's like Tiger Woods and doesn't give a damn who he hurts. He's a sex addict and needs to take a good look at himself."

Yesterday Bridge told one England player he felt that Terry had "shot him in the back", well-placed sources said.

A football insider said: "Bridge and Terry were best friends and when he split from Vanessa it was Terry he turned to and poured out his heart to.

"He had absolutely no idea Terry was also consoling Vanessa at the same time and had begun an affair with her."

Bridge said in a statement yesterday: "My primary concern is the welfare of my son.

Therefore, I intend to make no comment whatsoever either now or in the future about these reports."

Later, after training with Manchester City, he arrived back at his rented £2million house in Alderley Edge, Cheshire.

Terry went to such lengths to hide his fling after Vanessa eventually broke it off, he got his aides to get her to sign a confidentiality form.

He then hired heavy-handed lawyers to put in a gagging injunction at the High Court 10 days ago banning newspapers from printing the story.

The draconian order was overturned at 2pm on Friday in a landmark ruling by Mr Justice Tugendhat.

Ironically, it was the very injunction won by Terry's £500-an-hour lawyers which made it possible for the story to be published. By rushing to court, the lawyers put Fleet Street on notice about the scandal.

mirror.co.uk

Last edited by Blackleaf; Jan 31st, 2010 at

12:28 PM

..