It is a question that will have millions of people around the world lying awake at night: What shall we call the new decade?
Should it be the Tens, the Teenies, the Tenners (an appropriate name whilst Britain is still in its greatest recession since the 1940s) or even the Tenties?
Apparently, in the 1910s, people called the decade the Tens, but maybe something different will catch on this time.
What should we call the decade after the noughties?
The Mirror
By
Damien Fletcher
1/01/2010
As the decade known as the noughties ends, what nickname can we give the next 10 years?
Suggestions so far include the tens, teens, tenties and even the tenners. There are plenty of ideas but what will stick?
David Crystal, honorary professor of linguistics at the University of Bangor in Wales, says: "There isn't that much variation possible with this particular decade. A century ago people talked about the tens and it seems unlikely that we will see it done differently this time.
"But that's the fun of trying to predict these things, you never really know until something catches on.
"The teens and the teenies have been suggested but the problem is that those words have become associated with teenagers in the last fifty years and so there is pressure against using the same word.
"You would not know whether you were talking about youngsters or years, so that is likely to be too confusing. Tennies is a possibility because it has not been used before and it is a novelty.
"But that is more likely to become more popular towards the end of the decade and certainly not before 2013, which would not even be "teen" years.
"Ten years ago there were all sorts of suggestions for this decade and noughties was one of them. Nobody thought it would catch on because it overlaps with the word naughty, but in fact now most people are talking about the noughties.
"And the trouble with humorous ones like the tenners, the joke being that tenners is all we've got left in our pockets after the credit crunch, or the terrible teens, to represent the tough economic times, is that they are so context bound.
"Once the story is over, words like that cease to have a point. The tenties have also been suggested but that just goes against the pattern of the decades because the 'ties' ending doesn't start until 2020.
"There was a newspaper competition in Australia to name the next decade and the winning phrase was one-ders. This was because there is hope for many scientific, humanitarian and environmental breakthroughs in the next decade and secondly because of the inclusion of number one in every year.
"That is a clever idea, but I think the word has got to be easy and also functional to catch on. In history people have always gone for the most obvious, easiest and shortest word.
"My prediction would be the Tens. But of course formally you will certainly hear newsreaders referring to the twenty-tens just as people talked about the nineteen-tens and still do.
"So I think you will see the two usages in parallel – the full one and the abbreviated one."
2010 and what happened in other years ending in 10
In 1903, the Wright brothers may have though they were the first people to fly, but an Englishman actually took that honour 1000 years ago exactly. Eilmer, a monk at Malmesbury Abbey in Wiltshire, fixed wings to his hands and feet and launched himself from the roof of the abbey. Our hero travelled 200 yards before crash landing and crippling himself for life (but he does have pubs named after him). That was in 1010. What other famous events occurred in years ending in 10?
10
If historians who place Christ's birth in 2BC are correct, then in the year 10 Jesus, who was just 12, was found teaching in the temple in Jerusalem.
110
The third Christian Bishop of Antioch, and a student of the Apostle John, Ignatius was sentenced to die in the Colosseum, where he was thrown to the lions for his faith.
210
AFTER suffering heavy losses since invading Scotland two years earlier, Roman Emperor Septimius Severus finally decided to call a truce, before losing up to 50,000 men retreating to Hadrian's wall.
310
TO offset the falling value of the denarius, Roman emperor Constantine ordered the minting of a new coin, the solidus, with one pound of solid gold to yield 72 solidi. It would be minted for about 700 years.
410
THE Romans finally left Britain after 367 years of rule following a natives' revolt.
Clovis I
510
KING Clovis I united all Frankish tribes in Gaul as Francia. In a 32-year reign he defeated the last Roman governor and conquered Roman and Visigothic Gaul, and transformed it into the Kingdom of the Franks – later known as France.
610
ON August 10, according to Islamic belief, the 40-year-old Mohammed wrote the first words of the Koran after receiving revelations from the archangel Gabriel, while meditating in the cave of Hera.
710
KING Geraint was the last recorded ruler of Dumnonia, later known as Devon. Repeatedly in conflict with Anglo-Saxon Wessex and killed in battle against King Ine of Wessex.
810
PERSIAN Muhammad ibn Musa al-Khwarizmi created equations he called al-jabr. His Compendious Book on Calculation by Completion and Balancing was later translated into Latin – and the word algebra.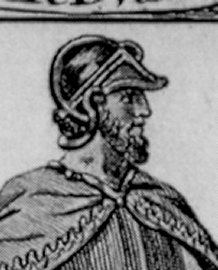 King Edward I

of the Anglo-Saxon kingdom of Wessex
910
AT the Battle of Tettenhall, August 5, the armies of King Edward of Wessex and

Earl Æthelred

of Mercia, scored a great victory over Northumbrian Vikings. The Vikings were permanently defeated.
Eilmer the Flying Monk as depicted in a Malmesbury Abbey stained glass window
1010
MONK Eilmer of Malmesbury launched first primitive hang glider from an Abbey tower. He flew 200 yards, landed, and broke his legs.

Crippled for life but undaunted, Eilmer believed that he could make a more controlled landing if his glider was equipped with a tail, and he was preparing for a second flight when the abbot of Malmesbury Abbey forbade him from risking his life in any further experiments.

Pubs called The Flying Monk are named after him.
1110
ON May 13, Crusaders under Baldwin I of Boulogne marched into Beirut and captured the city from the Muslim Arabs who had conquered it five centuries earlier.
King John
1210
NOVEMBER 1, King John, brother of Richard the Lionheart, began persecuting Jews, ordering them to pay a tallage. Those who refused to pay were arrested. Many were executed or left the country. In 1190, during the reign of John's brother Richard the Lionheart, 150 Jews were murdered in York Castle after a mob set fire to the tower they sought refuse in.
1310
SHOES made for left and right feet for the first time
1410
ST Andrews, Scotland's first university, became the third university in English-speaking world. Oxford and Cambridge had been around since the 11th Century.
1510
HENRY VIII ordered construction of the Mary Rose warship to go to battle with Spain against the French. She was launched in July 1511, served 33 years, and was sunk by a French invasion fleet in the Solent, 1545.
1610
FRANCE was thrown into turmoil on May 14 when King Henry IV was stabbed to death in his coach by Catholic fanatic Francois Ravaillac. His son Louis XIII, eight, later ascended to the throne at 13 until 1643.
St Paul's Cathedral in 1754
1710
Sir Christopher Wren's St Paul's Cathedral is declared officially complete by Parliament after 35 years, at a total cost of £738,845.
1810
SWEDEN is forced to declare war on Britain by France, who had threatened to declare war on Sweden if they didn't. The war existed on paper only.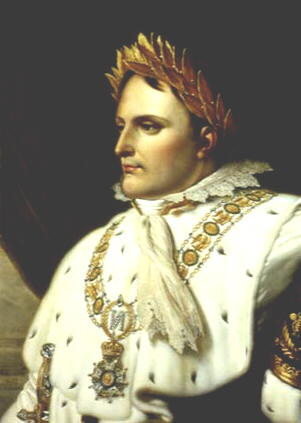 Napoleon: Naughty boy
1910
THE Prince of Wales became King George V on May 6, the London Palladium opened, British miners went on strike for an eight-hour day, Halley's Comet passed, the first Labour Exchange opened.
mirror.co.uk
Last edited by Blackleaf; Jan 1st, 2010 at

02:38 PM

..