Obama: China can have confidence in America's economy
(Xinhua)
Updated: 2009-03-15 08:24


:docmtend()" target="_blank">Comments(

1

)
(external - login to view)

:Print()" target="_blank">Print
(external - login to view)

Mail

(external - login to view)


WASHINGTON - US President Barack Obama assured on Saturday that China can have confidence in the American economy after meeting with his Brazilian counterpart Luiz Inacio Lula da Silva at the White House.
"Not just the Chinese government, but every investor can have absolute confidence in the soundness of investments in the United States," Obama said.



Special coverage:


NPC & CPPCC 2009

(external - login to view)

Related readings:


Premier worried about Safety of Assets
(external - login to view)

Wen: More stimulus push if needed
(external - login to view)

Obama, Brazilian president to meet at WhiteHouse
(external - login to view)

Obama: US favors stronger relations with China
(external - login to view)

Wen: 8% GDP growth goal achievable

(external - login to view)

"There is a reason why even in the midst of this economic crisis you have seen actual increases in investment flows here in the US," he said. Obama also noted the US will push for stricter regulation of the financial industry "front and center" at the upcoming G20 summit in London, playing down suggestions of a rift between the Europe and the United States over whether more emphasis should be placed on stimulus or financial regulatory reform.
Chinese Premier Wen Jiabao said earlier Friday he is "a little bit worried" about the safety of Chinese assets in the United States, urging the US government to ensure the security of those assets.
"We lent such huge fund to the United States and of course we' re concerned about the security of our assets and, to speak truthfully, I am a little bit worried," Wen told a press conference after the close of the annual session of the National People's Congress and the National Committee of the Chinese People's Political Consultative Conference.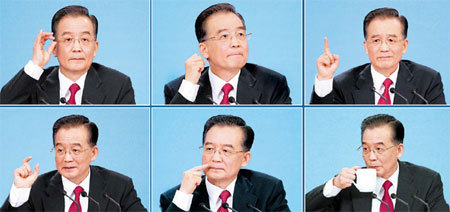 Premier Wen Jiabao gestures as he answers questions during a news conference at the Great Hall of the People in Beijing on Friday. [China Daily]

China has invested its huge foreign exchange reserves in low-risk but low-yield assets, such as US government bonds, to play it safe.
According to the US Treasury, China held US$681.9 billion worth of US government bonds as of November.
"China is indeed the largest creditor of the United States, which is the world's biggest economy. We are extremely interested in developments in the US economy," said Wen, adding that he is expecting the effect of the measures taken by the US government to counter the global financial crisis.
Asked to react to Wen's concern, Lawrence Summers, director of the US National Economic Council, noted on Friday that US would be "sound stewards of the money we invest."
"This is a commitment that the president has made very clear -- we need to be sound stewards of the money we invest," said Summers in a speech at the Brookings Institution, a leading think tank in the United States.