I wonder how Haliburton's stock did during the "Raping of Iraq?"
Iraqis in Diyala province sarcastically call it "the whale."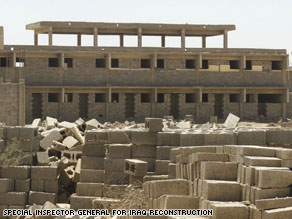 A new report says a half-built prison in Khan Bani Saad, Iraq, will probably never be used.
The "skeletal, half-built" shell of a maximum-security prison in Khan Bani Saad "will probably never house an inmate" even though the United States spent $40 million on the now-halted $73 million project.
Marred by "poor security and weak subcontractor performance," the project is among several examples of Iraqi rebuilding problems cited in a just-published history by the Special Inspector General for Iraq Reconstruction.
Titled "Hard Lessons: The Iraq Reconstruction Experience," the report says the massive reconstruction initiative was marked by waste and failures caused by "blinkered and disjointed" pre-war planning -- and was pursued amid deteriorating security.
"Why was an extensive rebuilding plan carried out in a gravely unstable security environment? asked Stuart W. Bowen Jr., the special inspector general for Iraq reconstruction, whose oversight jurisdiction covers $50 billion in U.S. funds appropriated by Congress for Iraq.
"This question underscores an overarching hard lesson from
Iraq
(external - login to view)
: Beware of pursuing large-scale reconstruction programs while significant conflict continues."
The report, released Monday, comes at a much less violent stage of the Iraqi conflict. The peaceful provincial elections across the nation Saturday reflected strides in political reconciliation and improvements in the performance of Iraqi security forces.
But American commanders continually warn that the security gains are fragile and could be undermined by insurgents.