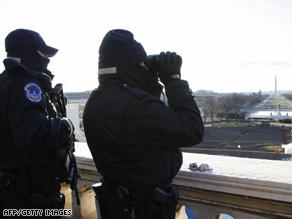 U.S. Capitol Police check observation positions in advance of Tuesday's presidential inauguration.
White supremacists watched in lead up to Obama administration - CNN.com
(external - login to view)
Quote:
WASHINGTON (CNN) -- Hate crimes experts and law enforcement officials are closely watching white supremacists across the country as Barack Obama prepares next week to be sworn in as the first black president of the United States.
So far, there is no known organized effort to express opposition to Obama's rise to the presidency other than a call by the National Knights of the Ku Klux Klan for its members to wear black armbands as well as fly the U.S. flag upside down on Inauguration Day and Obama's first full day in office.
As Tuesday approaches, when Obama stands outside the Capitol to take the oath of office, experts expect anger about the new president to spike. But they don't expect it to go away.
"The level of vitriol, I expect, will go up a bit more around inauguration time," said Brian Levin, director of the Center for the Study of Hate and Extremism at California State University-San Bernardino.
There "is concern" about white supremacist groups during the inauguration, said Joe Persichini, the assistant FBI director who is helping to oversee security during the inauguration.


Quote has been trimmed
I knew it was a lot bigger of an issue then what people have been leading us to believe.
Besides the normal talk about what is in the above report..... what do you personally think would happen if, hypothetically, someone took Obama out?
For me personally, I hope it doesn't happen, because I can already imagine the crap that would hit the fan......