Anti-piracy warriors set for big mission
By Wang Hui and Liu Shanshan (chinadaily.com.cn)
Updated: 2008-12-30 18:17


:docmtend()" target="_blank">Comments(

0

)
(external - login to view)

:Print()" target="_blank">Print
(external - login to view)

Mail
(external - login to view)
As a veteran airborne naval soldier, 43-year-old Zhao Jianhua has been on lots of sea trips, but none means more than the one officially started on December 26, 2008.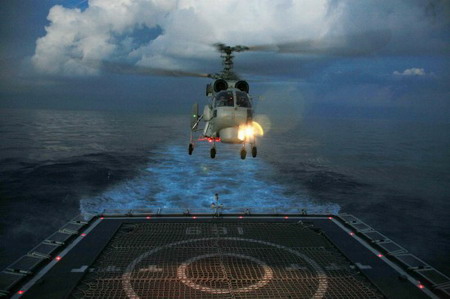 A helicopter prepares to land on the deck of DDG-169 Wuhan, a missile destroyer of a Chinese naval fleet on an escort mission against piracy off Somalia during a night landing exercise, December 28, 2008. [Xinhua]

He is travelling with the Chinese naval fleet, along with 800 crew members, heading for the Gulf of Aden on China's epic anti-piracy mission off Somali waters. It is the first time China has mobilized military forces to safeguard the national interests overseas since the ancient Ming Dynasty (1368 -1644).
As the Deputy Colonel of the helicopters' unit of the Chinese navy's escort fleet, Zhao is in charge of the elite forces who will pilot helicopters as part of three strategic missions: to patrol and guard the flotilla from danger, to aid in search and rescue, and to transport supplies and crew.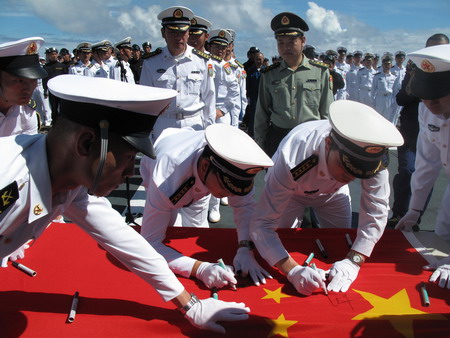 Sailors sign on a Chinese national flag during an oath-taking ceremony on the deck of a missile destroyer of the Chinese naval fleet on an anti-piracy mission off Somalia, December 28, 2008, two days after departure from Sanya, south China's Hainan province. [chinadaily.com.cn/ Wang Hui]

The escort mission is of great honor and weighty responsibility, he told China Daily.
"It is a complicated and long-term mission and no one has ever gone through such events," said Zhao. "Situation of the target sea areas of our escort mission is complicated. Lack of lights and night darkness on the ocean are part of the possible problems we can foresee."
Related readings:


Naval mission nears Strait of Malacca
(external - login to view)

Chinese Navy sets sail for anti-piracy mission off Somalia
(external - login to view)

Escort mission of trailblazing significance
(external - login to view)

Navy sets sail for waters off Somalia

(external - login to view)


To cope with the problems, the helicopters' unit has strengthened their training in nighttime air-ferry transport, landing practices and ground services, he said. Zhao became an airborne soldier of the Chinese naval forces in 1987 after three years of studies at the Naval Fly Academy.
He is an avid reader and likes listening to music. He has a daughter who is now a college student majoring in automation, he said, smiling with pride.
Unlike the experienced and considerate veteran Zhao, Xu Kang, 21, is more confident and raring-to-go about the cruise, estimated to take three months or longer.
"I finally get a chance to put what we've been trained into practice," said the fresh soldier with three years' military service age. To fulfill this mission, Xu intensified his studies on pilot knowledge, checked equipment on board the vessel for any hidden dangers, and asked the veterans questions when needed, in order to get himself fully prepared.
"I will commit myself to the mission and live up to the expectations of the Chinese people and the country," Xu pledged, adding, "It's a great honor to be chosen as a member of the squadron on the Chinese navy's historic and special escort mission."
Another moment of honour for Xu was in April of this year, during a group photo with President Hu Jintao, when President Hu inspected the Haikou missile destroyer. The sunny and handsome soldier recalled the scenes on that day with pride, as he stood smiling beside President Hu.



:docmtend()" target="_blank">Comments(

0

)
(external - login to view)

:Print()" target="_blank">Print
(external - login to view)

Mail
(external - login to view)