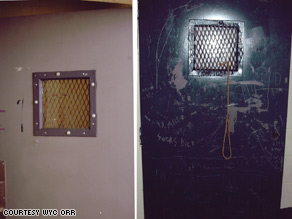 Children forced into cell-like school seclusion rooms - CNN.com
(external - login to view)
Quote:
MURRAYVILLE, Georgia (CNN) -- A few weeks before 13-year-old Jonathan King killed himself, he told his parents that his teachers had put him in "time-out."
"We thought that meant go sit in the corner and be quiet for a few minutes," Tina King said, tears washing her face as she remembered the child she called "our baby ... a good kid."
But time-out in the boy's north Georgia special education school was spent in something akin to a prison cell -- a concrete room latched from the outside, its tiny window obscured by a piece of paper.
Called a seclusion room, it's where in November 2004, Jonathan hanged himself with a cord a teacher gave him to hold up his pants.
Seclusion rooms, sometimes called time-out rooms, are used across the nation, generally for special needs children. Critics say that along with the death of Jonathan, many mentally disabled and autistic children have been injured or traumatized.


Quote has been trimmed
Yeah well clearly he was serious about killing himself and wasn't trying to get attention..... because he killed himself you idiot!
Quote:
A substitute employee placed in charge of watching the room on the day Jonathan died said in an affidavit that he had no training in the use of seclusion, and didn't know Jonathan had threatened suicide weeks earlier.

The Kings say they would have removed their son from the school if they knew he was being held in seclusion, or that he had expressed a desire to hurt himself.

"We would have home schooled him or taken him to another psychologist," said Don King. "If we would have known, our boy would have never been in that room. He would still be alive."
Interesting.
Anybody ever heard of these rooms? Are these just in the US are are they also in Canada? I don't remember hearing of these rooms in any of the schools I've been to, which also taught the same children as mentioned above.