In his first TV interview since the presidential election, Vice President Dick Cheney once again staunchly defended the Bush administration's record in the war on terror and, more specifically, the decision to go to war in Iraq.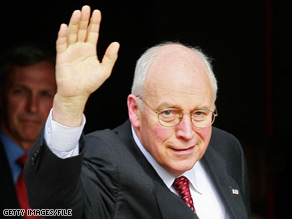 Vice President Dick Cheney brushes aside ex-colleagues' assertions he has morphed into a unrecognizable figure.
While admitting that he shared "frustration" over faulty intelligence regarding weapons of mass destruction in Iraq, Cheney asserted to ABC News' Jonathan Karl on Monday that "the world is better off with Saddam [Hussein] gone."
"I think we made the right decision in spite of the fact that
the original [intelligence estimate] was off in some of its major judgments
,
It was "off"? Off means potatoe salad in the fridge for a week. It wasn't "off", it was totally wrong and was used as a pretext to fight a diaster war
" Cheney said. "Saddam Hussein still had the capability to produce weapons of mass destruction. He had the technology [and] he had the people. ... [He] had every intention of resuming production once the international sanctions were lifted. This was a bad actor."
He had nothing. Iraq was basically starving and on the verge of collapse due to the sanctions. The last thing on their minds would be any sort of hugely expensive weapons program. They were more concerned with food
Cheney
(external - login to view)
brushed aside assertions from former colleagues that he had somehow morphed into an unrecognizable figure over the course of his term in office.
"Have I changed? Well, not in the sense that I've gone through some fundamental psychological transition here," he said. "But I have been, since [the September 11 attacks], focused very much upon what we needed to do to defend the nation. And I think the policies ... have been good programs. I think those have been sound decisions. And if that's what they mean by saying I changed, I'm guilty."
The vice president argued that, contrary to the claims of its critics,
the administration had not tortured suspected terrorists
Really? Everybody and their cat begs to differ.
I think Dick really does need a nice long rest in a secluded sanitorium somewher