The Royal Navy's new Astute Class submarines are currently being built in Britain.
These submarines are the largest and most powerful submarines ever operated by the Royal Navy - and they are also the world's most technologically advanced submarines. Together with its new Type 45 destroyers - the world's most technologically advanced warships and the Royal Navy's largest and most powerful destroyers in history - they will make the Royal Navy (the world's second-most powerful navy) a fearsome fighting force of the 21st century, and provide a strong defence for Britain.
Wider View: The biggest submarines ever built in Britain
By
Daily Mail Reporter
05th October 2008
Daily Mail
They are the biggest submarines ever built in Britain - and the most technologically advanced in the world. HMS Astute and HMS Ambush are the Royal Navy's first two Astute Class nuclear-powered subs. Each is 318ft long and will displace 7,400 tons of water... as much as 62 blue whales!
Enlarge
A monster: The Astute class submarines being built at BAE Systems shipyard at Barrow-in-Furness, Cumbria - each costing more than £1billion
With a unique life-support system that converts sea water into oxygen and drinking water for the 98 crew members, these leviathans will be capable of travelling under the sea, without surfacing, for 25 years, the lifespan of the nuclear fuel stored in their Rolls-Royce PWR2 reactors.
However, they will need to return to the surface to replenish food supplies every three months - enough time for their multi-bladed silent propellers, undetectable to sonar, to power them right around the globe.
Artist's impressions of the Royal Navy's new Astute Class nuclear submarine, its largest and most powerful submarine ever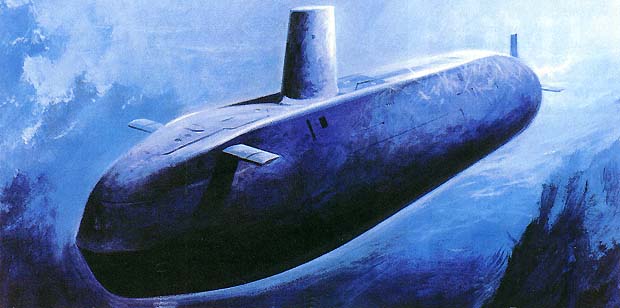 Astute, left, and Ambush are being completed in BAE Systems' 270,000sq ft Devonshire Dock Hall in Barrow-in-Furness, Cumbria. The small cabin just above Astute - which is due to enter service next year - houses a virtual-reality viewing system that allows the construction teams to see the plans in 3-D.
The green horizontal band on Astute's bow is algal staining from a sea trial to check its more than one million components, 23,000 pipes and 62 miles of electric cables. After the sub completed a dive and simulated weapons test, a giant ship lift was used to return it to the hall.
More than 4,000 people are involved in the production of these hunter-killer submarines, which cost about £1billion each. They will not carry nuclear warheads but will have a greater firepower than any previous attack sub - with the ability to fire 38 Tomahawk cruise missiles from the hatches visible above their bows, as well as Spearfish torpedoes from lateral tubes, one of which can be seen through the scaffolding beside Astute.
Instead of periscopes, masts carrying thermal imaging and low-light cameras will be attached to the conning towers and will provide the captain with a 360-degree picture.
dailymail.co.uk
Last edited by Blackleaf; Oct 7th, 2008 at

06:34 AM

..