U.S. economy sheds 159,000 jobs, worst in 5 years
http://www.cbc.ca/money/story/2008/10/03/usjobs.html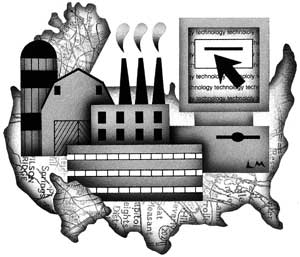 The U.S. economy shed 159,000 jobs in September, the Labour Department reported Friday, a much higher figure than economists had expected and the biggest drop in five years.
The cut represented the ninth straight month that U.S. firms have reduced payrolls and the largest one-month decline since March 2003, when payrolls were down 212,000.
The unemployment rate was unchanged at 6.1 per cent after a 0.4 percentage point rise in August.
"Over the month, employment continued to decline in manufacturing, construction and retail trade," the department said in a release.
The U.S. economy, once the job-creating envy of the industrialized world, has lost 760,000 jobs since the beginning of the year.
Economists had expected payrolls to be reduced in September, with a low estimate in the range of 80,000 and an average estimate of 105,000.
September's actual job cuts were more than 40 per cent higher than that average.
Before financial meltdown
Even more troubling is the fact the household survey of employment was conducted for the week of Sept. 9.
Thus, the financial meltdown that Wall Street experienced in the month was only beginning as people were asked about their job situation.
On Monday, Sept. 9, the bankruptcy of Lehman Brothers began an unprecedented period of upheaval in the global financial community as American International Group Inc. and Merrill Lynch also were taken over.
Thus, any job cuts related to the financial crisis are unlikely to be reflected in the September report.
Within the various sectors, U.S. manufacturers shed 35,000 positions in the month.
Service companies cut a further 80,000 jobs in September, with retail trade accounting for 50 per cent of the reduction, or 40,000 jobs.
Construction companies chopped another 35,000 jobs in the month.
The U.S. unemployment stayed the same at 6.1 per cent.
Economic uncertainty
The employment report is more bad news as investors and voters in the United States try to gauge their financial futures.
On the one hand, the poorer-than-expected job figures were partly the result of the economic damage from Hurricane Ike, which slammed into the southern U.S. coast earlier in the month.
But analysts are expecting U.S. consumer confidence to plunge once Americans absorb the effect of the financial turmoil.
Thus, they might interpret the weak job markets as more evidence of a gathering recession.