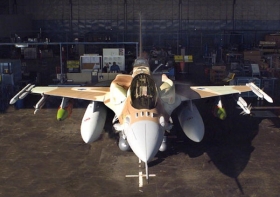 F-16I fighter plane
German Dolphin Submarine
http://www.ctv.ca/servlet/ArticleNew...0807?hub=World
Quote:
JERUSALEM -- Israel is building up its strike capabilities amid growing anxiety over Iran's nuclear ambitions and appears confident that a military attack would cripple Tehran's atomic program, even if it can't destroy it.


Such talk could be more threat than reality. However, Iran's refusal to accept Western conditions is worrying Israel as is the perception that Washington now prefers diplomacy over confrontation with Tehran.


The Jewish state has purchased 90 F-16I fighter planes that can carry enough fuel to reach Iran, and will receive 11 more by the end of next year. It has bought two new Dolphin submarines from Germany reportedly capable of firing nuclear-armed warheads -- in addition to the three it already has.


And this summer it carried out air maneuvers in the Mediterranean that touched off an international debate over whether they were a "dress rehearsal" for an imminent attack, a stern warning to Iran or a just a way to get allies to step up the pressure on Tehran to stop building nukes.


According to foreign media reports, Israeli intelligence is active inside Iranian territory. Israel's military censor, who can impose a range of legal sanctions against journalists operating in the country, does not permit publication of details of such information in news reports written from Israel.


The issue of Iran's nuclear program took on new urgency this week after U.S. officials rejected Tehran's response to an incentives package aimed at getting it to stop sensitive nuclear activity -- setting the stage for a fourth round of international sanctions against the country.


Israel, itself an undeclared nuclear power, sees an atomic bomb in Iranian hands as a direct threat to its existence.


Israel believes Tehran will have enriched enough uranium for a nuclear bomb by next year or 2010 at the latest. The United States has trimmed its estimate that Iran is several years or as much as a decade away from being able to field a bomb, but has not been precise about a timetable. In general U.S. officials think Iran isn't as close to a bomb as Israel claims, but are concerned that Iran is working faster than anticipated to add centrifuges, the workhorses of uranium enrichment.


"If Israeli, U.S., or European intelligence gets proof that Iran has succeeded in developing nuclear weapons technology, then Israel will respond in a manner reflecting the existential threat posed by such a weapon," said Israeli Deputy Prime Minister Shaul Mofaz, speaking at a policy forum in Washington last week.


"Israel takes (Iranian President) Mahmoud Ahmadinejad's statements regarding its destruction seriously. Israel cannot risk another Holocaust," Mofaz said.
Morons.... get a clue... it was a poor translation and misunderstanding of what he meant, which he and other Iranian officials cleared up a month or two ago.
Quote:
The Iranian leader has in the past called for Israel's elimination, though his exact remarks have been disputed. Some translators say he called for Israel to be "wiped off the map," while others say a better translation would be "vanish from the pages of time" -- implying Israel would disappear on its own rather than be destroyed.
Iran insists its uranium enrichment is meant only for electricity generation, not a bomb-- an assertion that most Western nations see as disingenuous.
Israeli policymakers and experts have been debating for quite some time whether it would even be possible for Israel to take out Iran's nuclear program. The mission would be far more complicated than a 1981 Israeli raid that destroyed Iraq's partially built Osirak nuclear reactor, or an Israeli raid last year on what U.S. intelligence officials said was another unfinished nuclear facility in Syria.
In Iran, multiple atomic installations are scattered throughout the country, some underground or bored into mountains -- unlike the Iraqi and Syrian installations, which were single aboveground complexes.

Quote has been trimmed
Suck it up Princesses.
Quote:
That may help explain recent visits to Jerusalem by Mike McConnell, the U.S. director of national intelligence, and Adm. Michael Mullen, chairman of the Joint Chiefs of Staff, each of whom delivered a message to Israel that it does not have a green light to attack Iran at this time.


Senior Israeli officials, speaking on condition of anonymity because they do not wish to appear at odds with their most important ally, said they were concerned about a possible softening of the U.S. stance toward Iran.
Yeah, facts, lack of evidence and past screwups will do that.
Quote:
Apparently to allay Israeli concerns, Bush administration officials last week assured visiting Israeli Defense Minister Ehud Barak that the U.S. has not ruled out the possibility of a military strike on Iran. And the U.S., aware of Israel's high anxiety over Iran's nukes, is also hooking Israel up to an advanced missile detection system known as X-Band to guard against any future attack by Iran, said a senior U.S. defense official, who spoke on condition of anonymity because the discussions over the issue have not been made public.


With sanctions and diplomacy still the international community's preferred method to get Iran to stop building the bomb, an Israeli strike does not appear imminent.
Idiots, you still have to prove they're intending to build a bomb before you can stop them from building one.
Quote:
If it did attack, however, Israel would have to contend with upgraded Iranian defense capabilities, including 29 new Tor-M1 surface-to-air missile systems Iran purchased from Russia last year in a $700 million deal.
Russia has so far not gone through with a proposed sale to Iran of S-300 surface-to-air missiles, an even more powerful air defense system than the Tor-M1. An Israeli defense official said the deal is still on the table, however. This is a big source of consternation for Israel because the system could significantly complicate a pre-emptive Israeli assault on Iran.
Military experts say an Israeli strike would require manned aircraft to bombard multiple targets and heavy precision bombs that can blast through underground bunkers -- something Israel failed to do in its 2006 war against Hezbollah. It's widely assumed that Israel is seeking to obtain bunker buster bombs, if it hasn't already done so.
Elite ground troops could also be necessary to penetrate the most difficult sites, though Israeli military planners say they see that option as perhaps too risky.

Quote has been trimmed
Once again, you have to still prove they're building a nuclear weapon.... or else you'll be attacking more innocent people, yet again.