Last night, London, and two royal princes, showed their gratitude to Britain's Armed Forces in a spectacular one hour long salute as the sun went down.
Thousands gathered at St Paul's Cathedral - which also celebrates its 300th birthday on 20th December - to watch members of the RAF, Royal Navy and British Army take part in spectacular marches and drills, including music from the band of the Royal Marines, probably the best military band on the planet.
There were also some of Britain's latest weapons being proudly shown off - including fly-pasts by the RAF and the demonstrations of several tanks.
Princes William and Harry helped organise the event. The Queen easn't present although the Lord Mayor of London, Alderman David Lewis (not to be confused with London Mayor Boris Johnson) was there. The Lord Mayor of London is ranked second only to the Queen in the City of London.
The Lord Mayor of London's bodyguards (pikemen), in their beautiful red and silver uniforms and carrying huge pikes, were also present. They are members of the British Army's oldest surviving regiment.
Princes in tribute to hero troops
Comrades ... PrinceHarry and brave Ben McBean share joke during pageant
Pictures: Arthur Edwards and Dave Hogan
By TOM NEWTON DUNN
Defence Editor
and ALEX WEST
8th May 2008
The Sun
Moving images: The faces of members of the Armed Forces are projected onto St Paul's Cathedral
AP -
Wednesday, May 7 09:45 pm
St. Paul's Cathedral, which celebrates its 300th birthday in December, is seen floodlit in London during the 'City Salute' sunset pageant Wednesday May 7, 2008 in London. The 'City Salute' has been organised to celebrate and support Britain's armed forces and their families and to raise money for injured servicemen and women. (AP Photo/Peter Macdiarmid, pool)
PRINCES William and Harry told how they were "humbled" by the heroism of our troops — as they joined thousands in a spectacular salute to them yesterday.
The young Royals — both serving Army officers — begged Britain to openly show its gratitude for the selfless courage of Our Boys.
And they declared in a message to crowds thronging London's streets: "They need to know just how grateful we are for the job which they do on our behalf so uncomplainingly and so well."
Wills, 25, and Harry, 23, stressed that it included supporting our soldiers "in good times and in bad".
Comrades maimed in Iraq and Afghanistan were VIP guests as the capital paid a poignant — and thrilling — tribute in the shadow of St Paul's Cathedral to the best forces in the world.
The princes described to the City Salute pageant how the courage of the men and women they now serve with was "inspiring beyond measure".
Address ... Ross Kemp
They declared: "We are both currently enjoying the privilege of seeing at first hand the simply remarkable job which the men and women of our Armed Forces do."
The extravaganza saw a flypast by Eurofighter jets, a Chinook helicopter display by 27 Squadron — and parades by troops from all three services.
Among those given pride of place was Harry's Royal Marine "hero" Ben McBean, 21 — who lost an arm and a leg in a Taliban blast.
Ben was near death when Harry flew home from Afghanistan beside him.
Support ... princes with Martyn and wounded servicemen
He and the prince were later reunited at the Headley Court forces' rehab centre in Surrey.
Ben, who has been fitted with an artificial leg and arm, said: "It's brilliant to be here — but the best thing is to be standing up. I feel a lot better now that I can see all these people showing their appreciation."
Also among the VIPs was a Household Cavalry comrade of William's — Martyn Compton, 24.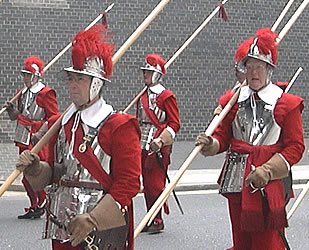 Pikemen and Musketeers of the
Honourable Artillery Company
are the Lord Mayor of London's traditional escort. The Honourable Artillery Company is the oldest surviving regiment of the British Army
He was horrifically burned by a Taliban rocket-propelled grenade. Yesterday's event raised almost £1million for wounded servicemen — which will be split between The Sun-backed Help for Heroes charity and the Soldiers, Sailors, Airmen and Families Association.
Last night Wills and Harry added more to the pot by hosting a glitzy bash.
Earlier HMS Belfast fired all its four and six-inch guns — the first such salvo since the cruiser-turned-museum left active service in 1971.
The pageant was compered by Sun columnist Jeremy Clarkson — who ribbed Wills over his helicopter jaunts to Kate Middleton's house and a stag do.
The prince laughed as a Chinook flew overhead and Clarkson said: "It's a bit of a lumbering tank — not exactly hard to miss. You can't even land one on the Isle of Wight without the newspapers finding out."
Other celebrity guests included Joss Stone, who sang at the princes' party, TV's Ross Kemp, and new London Mayor Boris Johnson.
Chief of Defence Staff, Air Chief Marshall Sir Jock Stirrup said: "The Sun has made a magnificent contribution to raising the profile of the work our Armed Services do. This event gives the public the opportunity to show their support — and it's a pretty big thank you."
Today sees a further salute as the Grenadier Guards, who last year lost five comrades in Afghanistan, parade through Lincoln.
HERO
RAF corporal David Hayden yesterday became the first airman to be awarded the Military Cross — for braving Iraq gunfire to rescue a wounded colleague. David, 29, from Spalding, Lincs, said: "I was just doing my job."
Winners: Prince William greets new Mayor of London, Boris Johnson
Driving home: A tank drives past the crowds outside St Paul's Cathedral
Spectacle: The parade saw the RAF fly past in front of St Paul's Cathedral
Lighting up the City: A pink and purple St Paul's lights up the dark City of London
thesun.o.uk