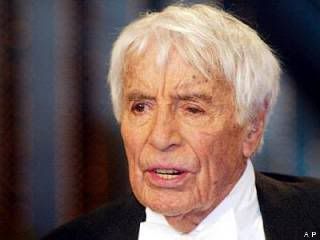 The Dutch-German actor, singer, entertainer, and charmer Johannes Heesters is going to celebrate his 101st birthday tomorrow.
Born on December, 5th 1903 in Amersfoort in the Netherlands, "Jopi" Heesters wanted to become a banker first, but changed to play-acting in 1920.
After finishing his job training´in Amsterdam, he got also his first engagements there, he also played on stages in Brussels, Rotterdam and Den Haag.
In 1930, Johannes Heesters married Louisa H. Ghijs and became father of two daughters, Wiesje and Nicole.
He'd been married to Louisa for 53 years when she died in 1983.
Heesters has been married to his 2nd wife, Simone Rethel, who is 46 years his junior, since 1991.
Heesters debuted as an operetta-singer in Vienna in 1934 and as an actor one year later in the film "Bleeke Bet".
He is the most famous "Count Danilo" from "Die lustige Witwe" (The Merry Widow) whom he played for 32 years from 1938 to 1970 on stage.
Heesters stayed in Germany during WW2 which earned him lots of critics from his home country the Netherlands saying he hadn't done enough against the Nazi-regime.
Until 1961, Heesters appeared in about 50 movies.
Despite his success being a film-actor, he preferably turned back to the stage after 1945 which has always been his passion.
On his 95th birthday, Heesters was guest in a TV show called "Wetten, daß...?", a show about betting.
"If I lose my bet", Heesters said "I'll be in this show again for my 100th birthday!"
Heesters lost - and - as promised, returned to "Wetten, daß...?" one day before his 100th birthday on December, 4th 2003, singing his song "Ich werde hundert Jahre alt" ("I'll be 100 years old"), which he has performed several years before already.
In 2002, he could celebrate his 80th "on-stage anniversary".
Johannes Heesters will celebrate his 101st birthday, after he will have returned from a TV-show recording, in his house at the Starnberger lake with an obligatory garlic-schnapps and a glass of champagne.
Not being tired of acting and singing, he will be on tour again from January - April 2005, performing lots of his popular songs.
"Without work, I'd be bored and sick. I thank God for every day on which I can get up. But I also asked him for a few more years on earth. I'm not begging, I don't beg at all, but I asked him for this and I'd be so very pleased."