THE Grenadier Guards have appointed the son of an African chief as the first black officer in the regiment's 350-year history. The Grenadier Guards are the Queen's personal bodyguard.
Guards' first black officer
By JOHN KAY
Chief Reporter
January 25, 2007
THE Grenadier Guards have appointed the son of an African chief as the first black officer in the regiment's 350-year history.
Second Lieutenant Folarin Adeyemi Olatokunbo Olugbemiga Kuku told of his pride yesterday after joining the Queen's personal bodyguard.
The 24-year-old Nigerian — a polo-playing pal of Prince William — declared: "I am proud to serve the Queen — and the country."
And despite the Guards' ceremonial duties, he insisted: "I am a real soldier and a properly trained one."
The Harrow-educated recruit has 15 brothers and sisters. His mum Rita, 48, is a chief in Nigeria.
He was at Sandhurst with Prince William. The Queen, who is colonel-in-chief of the Grenadiers, was informed of his historic appointment and expressed her full support.
Making history ... Kuku with his mum, and with his troops
Not only is Lt Kuku the first black officer in the illustrious history of the Grenadier Guards, he is the only black officer in the
ENTIRE
Guards division — which includes the Scots, Irish, Welsh and Coldstreams.
He said: "As far as the guardsmen are concerned my colour doesn't matter — but my rank garners respect. It would be nice to be a general one day."
Lt Kuku is undergoing intensive infantry training on Salisbury plain before the 700-strong Grenadiers deploy to Afghanistan in March.
He will be part of the elite Queen's company — commanding three guardsmen in a stripped-down Land Rover fitted with two machine guns. He said: "One of my uncles was in the Nigerian army so since I was young I was very interested in the armed forces.
So proud ... Lt Kuku in training
Picture: ARTHUR EDWARDS
"At Harrow school, I joined the cadets and got interviewed by a number of different regiments, namely the Grenadier Guards and the Irish Guards, when I was 16.
"It made a lasting impression on me and they seemed like people I wanted to work with. I liked their qualities — comradeship and working together. The Army seemed to have ideals which were greater than material gain."
Lt Kuku went on: "I am a Nigerian serving in the British Army — but it has never been an issue.
"At the end of the day I'm Second Lieutenant Kuku, Grenadier Guards — not Second Lieutenant Kuku, and by the way he's black."
He admitted that being in the Queen's bodyguard was "part of the allure". Next year the regiment — the oldest infantry unit in the British Army — will be posted to London for ceremonial duties.
Lt Kuku must wait until then to be given his bearskin.
He also confessed: "I am nervous about going to Afghanistan because you never really know what it's going to be like until you get there.
"That is why we train and prepare in such depth. My mother has been very supportive of me joining the Army. She hears on the news about where I'm going and like all mothers she's a bit nervous.
"But she knows I am very well trained to deal with everything."
His commanding officer Lt Col Carew Hatherley said: "He has had a very strong showing at Sandhurst and on his platoon commanders' battle course. Colour is not an issue — everything is done on merit."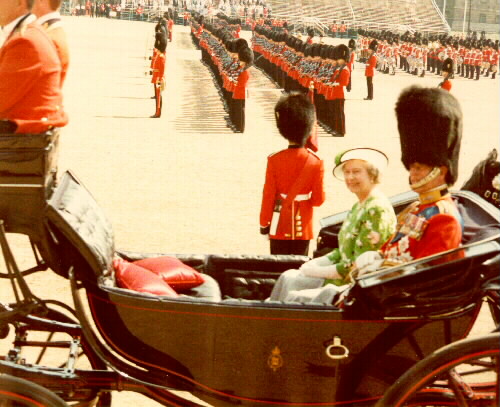 The Grenadier Guards in their ceremonial uniforms.
thesun.co.uk
Last edited by Blackleaf; Jan 25th, 2007 at

04:43 AM

..