Dutch head to the polls in key election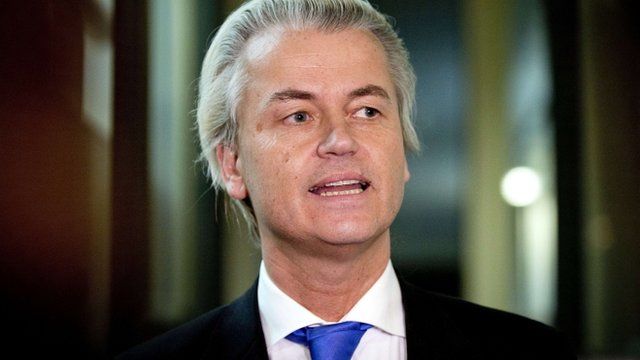 Polls have opened in the Netherlands, with the Prime Minister Mark Rutte's party leading the anti-immigration Party for Freedom led by Geert Wilders.
Last-minute opinion polls showed Prime Minister Mark Rutte taking a small but clear lead following a campaign centred on identity and migration and perhaps the most divisive since World War II.
Rutte's liberal VVD was set to take between 27 and 29 seats in the 150-member lower house, according to four separate polls.
Dutch firebrand Geert Wilders Freedom Party is staunchly anti-immigration, and has labelled Islam as a religion of violence.
- See more at:
Dutch head to the polls in key election
(external - login to view)
'Islam is the greatest threat facing the Netherlands. This is an existential problem. The future of our country is at stake. Islam and freedom don't go together,' Wilders said on national public broadcaster just hours before voters were due to go to the polls.
The Dutch were feeling themselves second-rate citizens in their own country, the populist leader said.
Wilders highlighted dual loyalties as shown by Turkish protesters in Rotterdam over the weekend and pointed to high crime levels among Muslim immigrant communities.
Wilders, whose Party for Freedom (PVV) has lost support in recent opinion polls, took to inflammatory language to contrast Mohammed with Jesus.
'Mohammed was a warlord, a paedophile,' he said, calling for Dutch Christian culture to be safeguarded.
Mr Wilders has also vowed to take to emulate the United Kingdom and exit from the European Union.
Rutte used the final debate to stress the success of a deal with Turkey last year to cut the flow of migrants to Western Europe that peaked in 2015 and has since ebbed.
And he warned that good intentions with respect to taking in refugees fleeing war in Syria and elsewhere would have 'unintended consequences that lead to social tension'.
Given the large number of undecided voters and the margins of error, the pollsters said the election was too close to call.
The Christian Democrat (CDA), a mainstay of Dutch politics that had seen support fall in recent years, has made a comeback to between 19 and 23 seats, according to the late polling.
Four other parties are likely to gain more than 10 seats, according to the opinion polls - the centrist D66, Green-Left, the Socialist Party and the social democrat Labour Party (PvdA).
Rutte has made clear that he will not cooperate with Wilders, whatever the outcome.
'Not even in a tolerance structure - no, never, no,' he said in a head-to-head debate on Monday.
Political risk consultants Eurasia Group said government formation was likely to be lengthy and could result in a weak coalition that would determine European Union policy at a critical time for the bloc.
- See more at:
Dutch head to the polls in key election
(external - login to view)