Morris Minor overtakes rivals into British hearts
13th July 2006
The Morris Minor, which first went on sale in 1948, is the most quintessentially British vehicle on the road, according to a survey out today.
With its wooden panels and distinctive curves, the Morris Minor beat off the challenge of the likes of the Aston Martin and Rolls-Royce.
The survey came from the organisers of the British International Motor Show, which returns to London next week after an absence of 30 years.
Show spokeswoman Kirsty Adams said: "It's great to see that the Morris Minor still has a place in British hearts."
The top 10 list of the UK's most quintessentially British vehicles is:
1. Morris Minor
2. Aston Martin
3. Rolls-Royce
4. Fire Engine
5. Mini Metro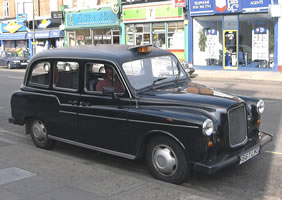 6. Black Cab
7. Double-decker bus
8. Robin Reliant
9. Milk Float - the good old, slow-moving, electric-powered milk float is one of the most familiar sounds you hear in England if you are lying in bed awake at 5am.
10. Green Goddess fire engine - these are used when a fire service goes on strike.
dailymail.co.uk