thank gawd for tommy mulhair eh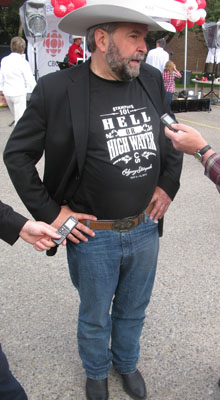 OTTAWA — The NDP is offering to help the Conservative government bridge the gap with First Nations in the after the Supreme Court's ruled last week in favour of Native title lands in British Columbia.
In a letter written to Prime Minister Stephen Harper, Opposition Leader Tom Mulcair wrote: "As political leaders we cannot accept that resource development is a zero-sum game."
"We have an obligation to help find a way forward that benefits us all."
The top court ruling will likely mean First Nations approval will be required when resource projects are planned on land that was never ceded.
The NDP itself opposes most current proposed development om those lands.
NDP MP Romeo Saganash elaborated on what his party hopes to achieve by acting as a broker, and rejected the notion the party is fundamentally against natural resource development.
Social and environmental implications have to be considered in these developments, Saganash said, adding his belief that the Conservative government has focussed only on the economic aspects.
"We oppose projects dealing only with economic aspects ... without considering the social and environmental," Saganash told reporters.
Saganash said the government hadn't taken First Nations concerns into consideration in its approach to the proposed Northern Gateway pipeline but wouldn't comment on whether it was too late to revive those negotiations.
Saganash was optimistic the Supreme Court's ruling could catalyze better relations between First Nations and the feds.
"We need to put First Nations back at the centre of economic development," he said.
The government declined to say whether it would take the NDP up on its offer.
NDP offers to play mediator between feds and Natives | Canada | News | Toronto S