I saw a true dream while sleeping at night:
I saw that an animal called the
porcupine,
having spikes on his body, came then another animal bigger than it; as I remember
a tiger or a leopard came and ate the head of the porcupine
, so that only its frame remained.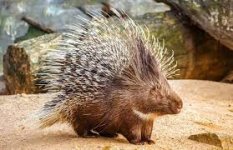 ​
This is a warning for the wicked Zionists of Tel Aviv to stop their transgressions on God's house of worship at Jerusalem, and the worshipers inside it, and their transgression on Palestinians in their homeland by arresting, killing even the children and the press persons.
Then God's punishment for them will be so severe and
their much weapon will not avail them anything
.
A Warning to Jews of Perishing, If they do not believe in the Quran



​