Oct 9, 2004
46,458
1,368
113
​
Shackled skeleton find in Rutland 'evidence of Roman slavery'

​

8th June 2021

BBC News
Archaeologists called the discovery "internationally significant"

The discovery of a skeleton secured at the ankles with a locked set of iron fetters is thought to be evidence of slavery in Roman Britain, experts have said.
It was found buried in a ditch in Great Casterton, Rutland, by builders working on a home extension.
Archaeologists said it was the first uncovering of a burial wearing this form of restraint from that era.
Analysing the remains, they called the find "internationally significant".
Archaeologists from MOLA (Museum of London Archaeology) were brought in to "expose, record and analyse" the skeleton of an adult male following its discovery in 2015.
It published its findings in the journal Britannia on Monday.
Radiocarbon dating by Leicestershire Police showed the remains date from AD226 to AD427, the team said.
MOLA said examinations of the skeleton suggested the man led a physically demanding life or one filled with "excessive or repetitive physical activity".
The "awkward" burial position implied he was buried informally in a ditch rather than a proper grave, "perhaps as a conscious effort to separate or distinguish them" from those buried at a Roman cemetery about 60m (196ft) away.
However, questions remain over who the person was and why he was shackled.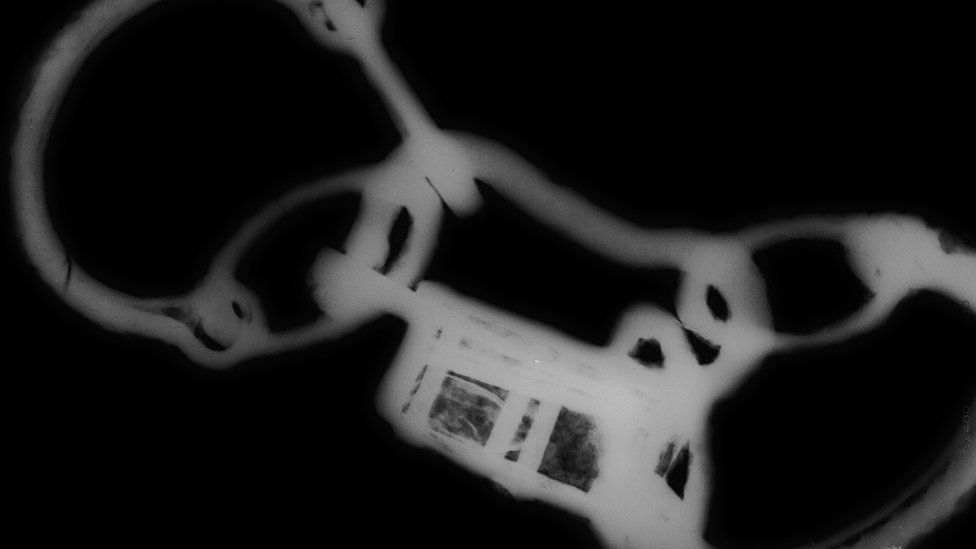 An X-Ray showed the iron fetters found buried at the house
Archaeologist Chris Chinnock said: "The chance discovery of a burial of an enslaved person at Great Casterton reminds us that even though the remains of enslaved people can often be difficult to identify, that they existed during the Roman period in Britain is unquestionable.
"Therefore, the questions we attempt to address from the archaeological remains can, and should, recognise the role slavery has played throughout history."
'Discomfort, pain and stigma'​
The museum said slavery was commonplace in the Roman Empire and iron shackles - one of the only artefacts with a strong link to slavery - have been found on archaeological sites across the Roman Empire.
However it said shackles were "very rarely" found with human remains, adding this was the first discovery from Roman Britain of a man wearing lockable ankle fetters.
"For living wearers, shackles were both a form of imprisonment and a method of punishment, a source of discomfort, pain and stigma which may have left scars even after they had been removed," said MOLA finds specialist Michael Marshall.
"However, the discovery of shackles in a burial suggests that they may have been used to exert power over dead bodies as well as the living, hinting that some of the symbolic consequences of imprisonment and slavery could extend even beyond death."
A MOLA spokesperson added: "The identity will never be known for sure, although together, the various pieces of evidence present the most convincing case for the remains of a Roman slave yet to be found in Britain."
The "internationally significant" discovery was made by builders working on a home extension.
Last edited: