"Voice of the West" Party
Apr 9, 2008
21,119
6,217
113
A man with personal connections to Prime Minister Justin Trudeau, Johnston should have never accepted the position of independent special rapporteur investigating foreign election interference, which was
announced
Wednesday.
(This being Canada, you can't throw a rock without hitting someone attached, in some way to the Liberal party, like Paul Rouleau or Dominic Barton or Morris Rosenberg)
Trudeau has
described
Johnston as a "family friend" and as a friend of Trudeau's father. Johnston is
involved
with the Pierre Elliott Trudeau Foundation, as a "member" who advises and helps select the board of directors (like Dominic Barton and Morris Rosenberg where).
The foundation is, of course, implicated in allegations the Chinese government tried to use it to influence Justin Trudeau ahead of the 2015 election. That doesn't mean Johnston himself is implicated, but someone with more distance from the matters being investigated would have clearly been preferable.
As head of the federal leaders debate commission, Johnston
appointed
WE Charity cofounder Craig Kielburger to the advisory board. A Trudeau friend appointing someone whose charity regularly paid Trudeau family members to speak at events and was granted a plum government contract in 2020, is the sort of thing that is just expected in Liberal circles, it seems.
Despite appearances, there is no indication that Johnston is anything but a man of integrity, which is why he should have stayed far away from the government's so-called investigations into interference, lest he open himself up to attacks and allegations his appointment was motivated by partisanship.
Trudeau announced over a week ago that he would be appointing an "eminent Canadian" to investigate foreign electoral interference, in the wake of allegations that the Chinese Communist Party funnelled illegal donations to multiple Liberal candidates in the 2019 and 2021 elections. The prime minister has refused to answer questions about what he knew and when, despite mounting evidence that his government was warned by intelligence officials about Chinese interference repeatedly since at least 2017.
Instead, Trudeau is tasking committees and panels to investigate China's influence. He has dismissed calls for a public inquiry, but decided to appoint the rapporteur to recommend whether an inquiry is needed?
Johnston's connections to the prime minister should have disqualified him from being appointed, not because the former governor general is incapable of performing his duties objectively, but because reasonable Canadians will find it difficult to accept Johnston's conclusions were not influenced in some way.
There is no indication that Johnston is anything but a man of integrity, which is why he should have turned down the special rapporteur job
nationalpost.com
Here's many positive things said about David Johnson: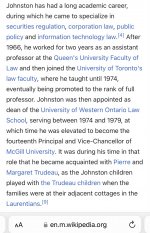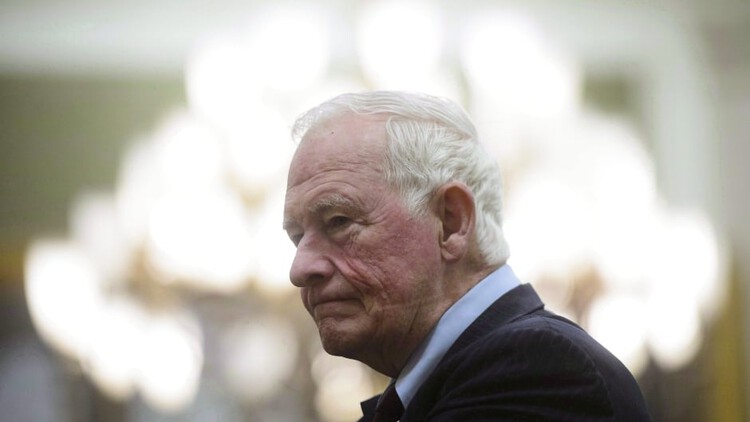 Prime Minister Justin Trudeau has tapped former governor general David Johnston to investigate claims that China meddled in Canada's last two elections.

apple.news
…..& yes, Stephen Harper put forward David Johnson as governor general in 2010…. Isn't that a sign of bipartisanship? Johnston is best at is not rocking boats. He's like a human outrigger. It's a great skill. That's exactly what you want in a governor general, as the Liberals belatedly discovered having replaced him with a
workplace-monster astronaut
.