Oct 9, 2004
46,460
1,370
113
Mystery as Santa hats appear on college chapel statues
BBC News
23 November 2021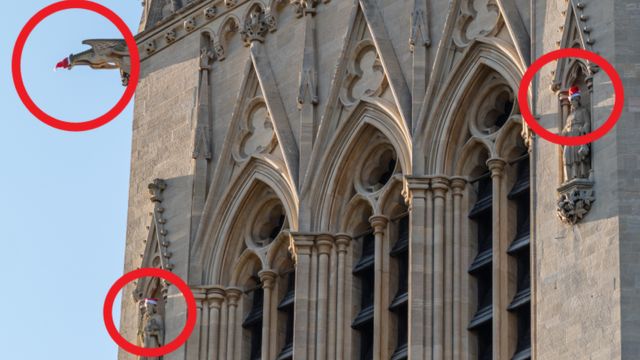 Photographer Martin Bond said at least three hats could be seen on the chapel tower

A photographer says he believes a "rascal student" is responsible for attaching festive hats to carved figures high on a college chapel.
Martin Bond said he first saw the Santa hats on St John's College, Cambridge, at about 11:00 GMT on Monday.
"Some people believe they were placed by a drone, but they definitely climbed up there," he said.
"I was told by a porter no key had been signed out, so they weren't placed inside, it was done from the outside."
The Gothic-style chapel at St John's College was built in the 1860s and stands 163ft (50m) high.
The chapel, on St John's Street, is a familiar sight on the Cambridge skyline
The city-based photographer has taken an image of Cambridge
every day
for more than a decade, collecting them online under the name
A Cambridge Diary
.
He said at least three hats could be seen on top of statues and gargoyles on the University of Cambridge building.
Posting the images on
Facebook
and
Twitter
, he said: "A rascal student has placed a Santa hat on the heads of figures on St John's College Chapel - so why is it my picture of the day?
He added: "Ask yourself - how?"
A commenter alluded to the work of
Cambridge University "night climbers"
, or students who defy the dangers to scale the college buildings under cover of darkness.
It is not the first time an unusual addition has been spotted on the college rooftops.
In November 2009, climbers scaled an 80ft (24m) external wall of King's College Chapel to fix four Santa hats on the pinnacles.
In June 1958,
a battered Austin 7
appeared on the roof of the Senate House overnight.
St John's College has been contacted for comment.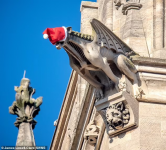 Hats on St John's College chapel figures are the work of a "rascal student", photographer believes.