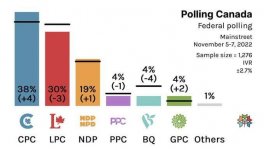 so - the interestnig thing about the CPC numbers is that their support is already pretty saturated in most of the west, and pretty low in the east if they're around 35 percent. In otherwords, EVERYBODY in alberta votes for them at that rate but nobody in ontario.
So every time the points go up for the CPC, they're going up in areas that the CPC badly needs more support in.
35 is a loss for the cpc (miority gov't tho). 38 is probably a win. And the Libs have once again lost ground despite their fall economic updates and other 'good news' events they hoped would prop them up.
Most of the rest of the movement is within the margin so it's not all that interesting, except the bloc. The bloc has fallen as well. Which is VERY interesting.