Oct 9, 2004
46,461
1,370
113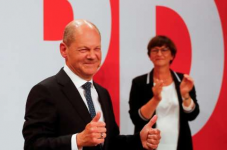 It's just after 23:00 local time, and the centre-left Social Democrats look to be on course for a razor-thin victory in Germany's parliamentary elections - but they will need to form a coalition to build the next government.
The party's candidate Olaf Scholz has said the country voted for change - and says voters want him to replace Angela Merkel as chancellor after 16 years.
Even so, Armin Laschet, the candidate for Mrs Merkel's conservatives, has declared the outcome "unclear" and said he too wants to become Germany's new chancellor. But he acknowledged his party has plunged to a historic low.
The progressive Greens appear to have made big gains, but not to have a viable shot at the chancellery. Along with the free-market Free Democrats, they look likely to play a key role in coalition talks.
But with many more people voting by post than usual, it could be a while before we know the full outcome of the poll.