Pre-season game opener between my Riders and the BC Lions at BC Place today. First chance to get a look at the team, evaluate them and check out our new HC Chris Jones. He's a winning coach so I do have some expectations. He also tends to be highly entertaining on the sidelines as he wears his emotions on his sleeve at times and, has been known to have a bit of a temper.
TSN is once again hosting Around the Table wherein three players or coaches get together with Rod and talk about the league, the players, and other aspects of football. I really enjoy watching it as I come away with a much better understanding of the people in our league.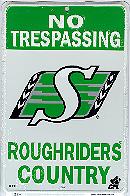 This is what friends and visitors see as they meander down my path to the house.